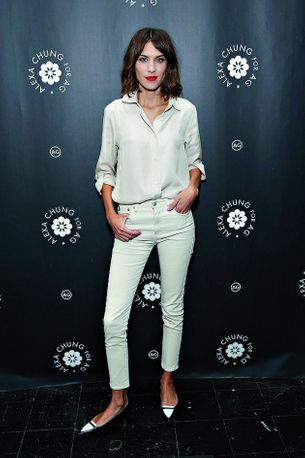 With live streaming and private viewings replacing runway shows, it's clear that fashion is changing – and fast.
Alexa Chung is set to reveal her new clothing line imminently, announcing she will be revealing the first collection for the brand, named Alexachung, via a live-streamed video on her website on Tuesday at 8pm EST.
The dressage-themed designs were first advertised through a teaser-video of Chung wearing pieces from the collection while riding a white horse around a riding arena.
Chung is known for her parisian-chic street style and so it is no surprise that she has tapped into the famously French fashion genre.
While Chung has chosen to present her new collection publicly, Mulberry has announced it will now be taking a more private approach.
The British brand has decided not to showcase their spring/summer '18 collection at London Fashion Week in September, but instead through private viewings with press and buyers only.
The change in presentation is a step the company has used to smooth Mulberry's transgression into a direct-to-consumer business model (also known as the see-now, buy-now method), which is due to be fully established within the company by February.
In an interview with US Vogue, Mulberry CEO Thierry Andretta said the move is one focused on stabilising Mulberry's future position in the market.
"The shift… enables us to continue to drive engagement and increase our relevance to our customers," she said.
However, Mulberry is not the only designer deciding to scale back on runway shows.
Jason Wu has announced that he will no longer segregate his pre-fall collection from the fall line and will instead combine the two collections into a larger, more coherent compilation. Wu will also do the same for his resort line, merging it into the spring collection under the new name of 'Spring One.' Wu says the change in business structure is another attempt to simplify the occupation of high fashion for both the consumer and the designer.
"I feel like I have enough time to make a more compelling story," Wu told WWD.
"The truth is, who can really design four collections a year in a way that can truly be meaningful?"
But fear not, Wu insists that he won't be creating less as such, but replacing the four annual collections with only two, staple ranges.
Lest to say, fashion's shift in focus from quantity and quality may be the best move designers have made yet.
["source-ndtv"]