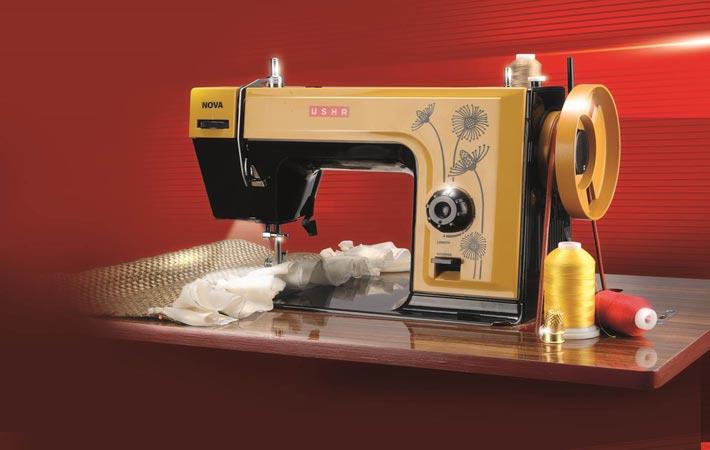 Usha International, one of India's leading consumer durables and number one sewing machine company, has unveiled its latest innovation in the sewing machine category – Usha Nova and Usha Nova Pro. This range of advanced stitch sewing machines combines the functionality of a straight stitch machine with added convenience of an automatic machine.
The new range is customised with features like an in-built LED light for better visibility, a thread cutter and a one touch reverse stitch button for easy reverse stitching. Other features include an advanced presser adjuster for smooth operation on various fabrics, extra presser foot lift to work on heavy fabrics like denim and a feed drop knob to shift from stitching to embroidery at the touch of a button.
The Usha Nova range is available in three variants – Usha Nova hand operated, foot operated and Usha Nova Pro with an in-built motor. These machines have an aluminum die-cast body with smart color options and a carry handle for portability.
"We are delighted to unveil our new Usha Nova range which is designed to enhance the user experience. The Nova range is primarily aimed at driving convenience and efficiency for those users who do much more than basic mending and stitching with their straight stitch sewing machines. We will continue to introduce more innovations in the category therefore expanding the market for sewing machines in India," said Jayati Singh, VP, marketing – cooking appliances and sewing machines, Usha International.
Usha has been the frontrunner in the sewing machine category and has launched many innovative products in the past. These include the Usha Janome Memory Craft 450E with a robotic embroidery arm, Usha Janome Memory Craft 15000, the first-ever Wi-Fi enabled machine and Usha Janome-My Fab Barbie India's first kids sewing machine. Usha also organises thematic workshops to engage consumers at the Usha HAB, a one-of-its-kind experiential sewing store in Mumbai and Kochi.
[Source:- fibre2fashion]