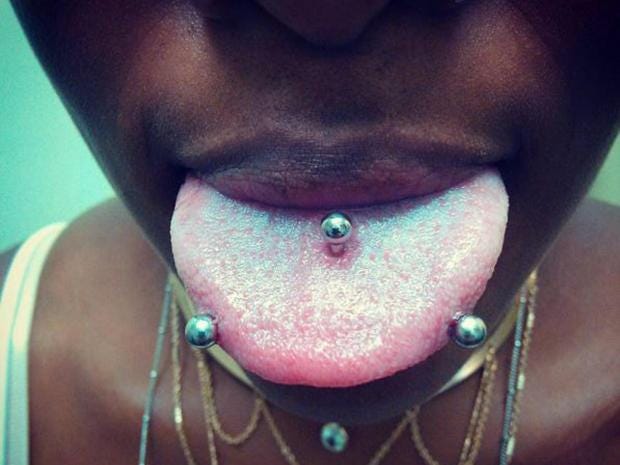 A piercing expert says a popular procedure is "incredibly unsafe" and he would never carry it out.
While getting a piercing may seem like a relatively simple way to accessorise yourself, according to TJ Cantwell, a piercer from Studio 28 in New York, a "snakebite piercing" can be potentially harmful.
It refers to a curved barbell that's put horizontally through the tip of the tongue leaving just the ends visible.  The look is also known as snake-eyes, or a venom piercing, and due to an increase in recent body-mod beauty trends its popularity is growing.
Despite this he told Bustle, "Here at Studio 28 tattoos, we have one piercing that we refuse to do.
"It is incredibly unsafe to have this piercing. It binds together the two muscles that make up the tongue so they cannot move independently."
The risks don't stop there though, he added: "The jewellery itself sits on the back of the teeth. It is almost guaranteed that the client will see gum erosion, cracking/chipping of the teeth, and migration/rejection of the piercing leaving a nasty looking scar."
Body piercing has gained some serious momentum of late with the rise of septum, nose and creative cartilage piercings.
But people are also getting more creative, and with that comes risk, as Cantwell warned.
"Dermal anchors or micro dermals on the hands or lower forearms we also shy away from. They are becoming more popular but have an incredibly high rate of getting caught on clothing and being ripped out of the skin."
[Source:- independent]