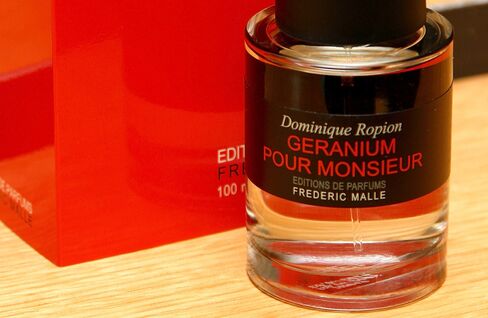 Fabrizio Freda, the chief executive officer of Estee Lauder Cos., could tell the fragrance industry was changing by watching the members of his own family.
His grandfather picked a signature cologne and never changed it, Freda says. But the executive's son hasn't shown that kind of loyalty — a typical attitude for younger consumers. If they wear cologne or perfume, they switch between niche brands and opt for smaller bottles.
"The new generation really looks at fragrances as a wardrobe but not anymore as a personal signature," the 59-year-old said in an interview.
 Many millennials don't want mass-market perfumes, and celebrity scents — once a vibrant part of the industry — have fallen into decline. But so-called artisanal fragrances are surging. Sales of the products, which sometimes come in offbeat varieties, rose 22 percent last year, according to the research firm NPD Group. That made them the fastest-growing fragrance segment.
In short, millennials no longer want to smell like Justin Bieber or Britney Spears — they'd rather have the scent of a smoky fireplace or old lipstick. And they don't want to wear the same perfume every day.
Merger Mania
Merger deals also are reshaping the industry and intensifying competition. Revlon Inc. agreed to buy Elizabeth Arden Inc. this year, teaming up with a large maker of celebrity perfumes. And Coty Inc. is poised to become the world's largest seller of fragrance when it completes its purchase of Procter & Gamble Co.'s 41 beauty brands this year.
Premium scents have kept the industry growing despite a slump in mass-market perfumes and colognes. The $6.6 billion market for U.S. artisanal products and other premium fragrances is projected to grow 18 percent by 2020, according to Euromonitor International. Mass-market fragrances, meanwhile, are forecast to drop 15 percent.
 Celebrity brands were once seen as key growth drivers for Elizabeth Arden and Coty. But sales in that category dropped 31 percent in 2015, according to the NPD. Coty Chairman Bart Becht said his company plans to refocus on top designer brands, such as Marc Jacobs and Gucci, while cutting out some other names. Elizabeth Arden, which gets three-quarters of its sales from scents, also could shift more toward premium names under Revlon.
Estee Lauder, best known for cosmetics and face cream, has used on the artisanal trend to fuel growth. Its fragrance sales increased faster than any other segment besides makeup last year. And the scents are more profitable than some designer-label products because they don't require the same advertising and promotion, Freda said.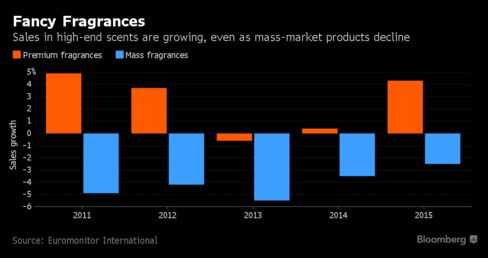 Estee Lauder's Frederic Malle, Le Labo and By Kilian scents might not be known to most consumers, but they are some of its most promising fragrance brands. It also sells scents under the more recognizable names of Tom Ford and Jo Malone, offered in such varieties as nutmeg, ginger, and wood sage and sea salt.
"A lot of people won't have heard of these brands, but that's what makes them cool because it's not the same fragrance that you smell on everybody walking down the street," said Eleanor Dwyer, a beauty analyst at Euromonitor. "It's a discovery that you made. You liked it, and you bought it — and you're wearing it."
For the past five years, the top brands in the U.S. have been dominated by European companies, Chanel SA and L'Oreal SA, according to Euromonitor data. But New York-based Estee Lauder has climbed the charts with its Jo Malone scents. The label jumped to the No. 9 spot last year, up from No. 24 five years ago.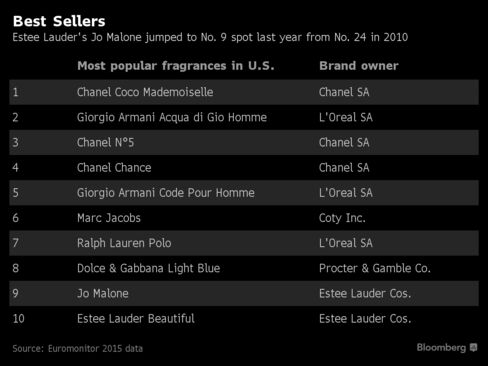 Angela Lopez, who works in finance in New York and wore Chanel No. 5 in her college years, is an example of a millennial shopper looking for something different.
"I used to wear what's popular, but I don't want smell like everyone else now," said the 31-year-old. "There are some perfumes that you smell everywhere. I like to discover new names and buy from small boutiques. It's more expensive, but it's worth it."
Rollerball Size
That attitude has prompted the industry to adopt smaller sizes, such as rollerballs that come in at around 10 milliliters. That's the fastest-growing form of packaging, with an increase of 50 percent or more last year, according to Euromonitor data. Most other sizes either dropped or grew less than 1 percent.
Rollerball-size fragrances can cost less than half the normal price, making it easier for budget-conscious millennials to try out new scents, said Karen Grant, a beauty analyst at the NPD. That could then build a foundation for the future.
"A younger consumer is able to discover, experiment, carry it with them," Grant said. "Different formats provide access to even higher-end fragrances, so then they are ready to graduate into a full fragrance."
[Source:- bloomberg]