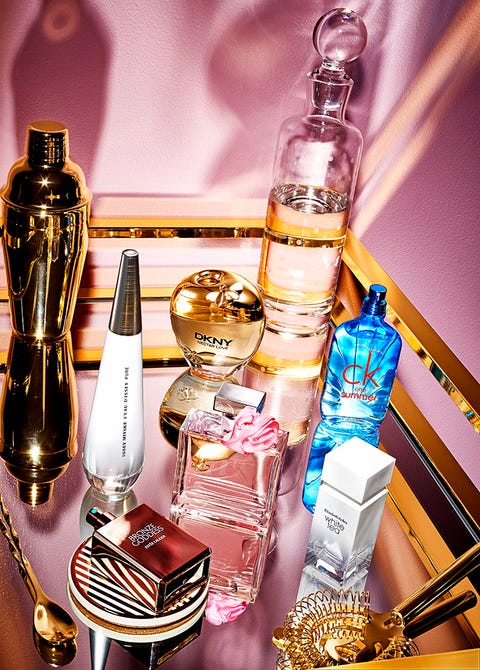 If You Like: Gin and Tonics
Buy: Issy Miyake L'eau D'Issey Pure
A fresh, chill blend of aquatic and cashmere notes, and the bottle is a classic in the making.
BUY NOW L'eau D'Issey Pure, ISSY MIYAKE, $109 for 3 oz.
If You Like: Gold Rushes
Buy: DKNY Nectar Love
This honeycomb-jasmine mix is equal parts sweet and sophisticated — like the hot toddy's cooler sis.
BUY NOW Nectar Love, DKNY, $98 for 3.4 oz
If You Like: Spicy Margaritas
Buy: CK One Summer
Pepper and lime notes give off a sassy vibe.
BUY NOW CK One Summer, CALVIN KLEIN, $54 for 3.4 oz.
If You Like: Piña Coladas
Buy: Estée Lauder Bronze Goddess
Splashing on the coconut-scented fragrance instantly transports you to a poolside party.
BUY NOW Bronze Goddess, ESTÉE LAUDER, $79 for 1.7 oz.
If You Like: Rosé Spritzers
Buy: Ralph Lauren Romance Summer Blossom
As versatile as the fruity-floral bev, it's perfect for brunch and a night out.
BUY NOW Romance Summer Blossom, RALPH LAUREN, $92 for 3.4 oz.
If You Like: Hard Teas
Buy: Elizabeth Arden White Tea
Spiked with tonka bean, this tea infusion comes off smooth, not strong.
BUY NOW White Tea, ELIZABETH ARDEN, $49 for 3.3 oz.
["source-cosmopolitan"]