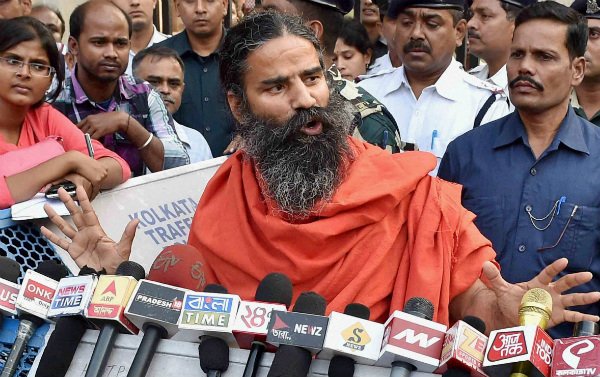 After making its presence felt in the fast moving consumer goods (FMCG) space and making MNCs firmly entrenched in India for years to change some of their products to herbal variant, Patanjali Ayurved is planning to come out with a 'swadeshi' clothing line in April 2018.
Curiously, this time around the company's claim is that the clothes will offer value-for-money clothes for the masses but also that the apparel will have a snob value for the classes, according to a report in the Mint. And the aim is to hit Rs 5,000 crore sales in the first year of operation. Experts and industry players are divided on the 'grand entry' planned by Patanjali into apparels.
For the unititated, the Indian textiles industry, currently estimated at around $120 billion, is expected to reach $ 230 billion by 2020. The apparel market in India is estimated to grow at a compounded annual growth rate of 11.8 percent to reach $ 180 billion by 2025, according to Indian Brand Equity Foundation (IBEF).
Rutu Kumar, the first lady of Indian fashion, says that it is nice to know that clothes made by an Indian brand is aiming at 'snob' value. "So far, cotton and khadi were at the bottom of the pyramid and to have elitism associated with handloom and Indian fabrics is very good. I welcome the move," she said.
Kumar felt that it was encouraging to have a brand willing to make products from the point of view of Indianness and work towards the culture of the country. "Too long have to looked at ramps of Paris for inspiration which does not work here at all. We have the largest number of craftspeople – 16 million – who work in the textile industry. If they were to find work in the new brand, it would be good."
Baba Ramdev or any other officials of Patanjali has not yet mentioned anything about handlooms. His spokesperson SK Tijarawala said in the Mint report, "We will start with woven clothes, knitwear and machine-made apparel, including denims."
In September 2016, the orange-robe clad bearded yoga guru Baba Ramdev had announced his intention of coming out with Paridhan, an Indian label that would focus not just on traditional wear but also modern clothes like 'desi' jeans (read the interview in The Telegraph here). "Products like clothing, which we will design and brand, can be outsourced. There are many good manufactures in Ludhiana and other textile centres for that work," he had said.
The number of local brands in the sector is still far less compared with the west. "There won't be enough brands to fill the shelves of a very large mall," said Kumar Rajagopalan, Retailers Association of India. From that point of view, another indigenous label in the retail space was welcome, he said.
Fashion factor
The question that is uppermost in people's minds is what is the differentiator that Patanjali will be offering in apparel with with its Paridhan brand? Patanjali has sold itself and appealed to customers with their 'indigenous' claim. The image that has permeated with the brand is that of health care and further to organic and Ayurveda.
India has many local, regional and national brands and they are available at almost every price points in the branded and unbranded category. There are many analysts and industry experts who are skeptical about the ambitious plans of Patanjali with its new brand though they welcome its entry into the apparel market.
Almost all that Firstpost spoke with were categorical that Baba Ramdev's brand equity was not 'transferable' to the Paridhan brand. "Baba Ramdev's brand is that of yoga, health and fitness. I don't see how it can be extended to clothes," said Arvind Singhal, chairman and managing director of Technopak Advisors, a retail industry consulting firm.
The brand, Paridhan, seeks to be distinct from Patanjali but that won't make it different. It will be associated with the Patanjali brand, says Siddharth Shekhar Singh, associate professor of marketing at the Indian School of Business. However, "it depends on the market that the brand has targeted," he said.
It is a fallacy that international brands have a major role to play in the apparel sector in the country. They are known because the media celebrates them and their store openings, says Rakesh Biyani, joint managing director, Future Retail Ltd. The foreign brands contribute only 0.02 percent of the apparel brand market in India, he said. However, Biyani said since Baba Ramdev and the Patanjali brand have a distinctive brand recall, he was looking forward to the group's interpretation of fashion.
Swadeshi cannot be a brand, said a sector analyst. "The market for apparel goes by styling, fashion and you cannot explain fashion with an ideology. That's something no one will buy," he said.
Patanjali has deep pockets and anyone with resources at their disposal like it can foray into another sector easily. "But funds alone cannot determine its success. If Paridhan can leverage the brand equity that Patanjali has, it may be able to protect the brand from negative association," said Singh of ISB. But he failed to see how could Patanjali build an identity independent of Patanjali.
Price vs affordability
What would distinguish Paridhan brand may be its affordable tag, if that is an element, considering that has been one of Patanjali's winning points in the FMCG sector. "If the brand is offering apparel at affordable rates, it will have to have to make a unique offering as apparel is available in almost every price points. There are so many brands in the country at present but the fact that Patanjali has decided to launch its own label is significant," said Singh of ISB.
Baba Ramdev and Patanjali are trying to extend their success quotient from food and consumer products to clothing, which is the second largest consumer spend in the country. If his ambition to expand the product portfolio to 10x succeeds, then he is on the right path, say analysts. If he were to make yoga mats, clothing for yoga practitioners, for instance, that would still sync in with the image of Baba Ramdev and the brand, analysts point out.
However, that's not the case. Baba Ramdev had earlier said 'desi' jeans is a category that Paridhan will be looking at. The term 'desi' jeans itself is problematic. As leading fashion designer Narendra Kumar Ahmed pointed out in an interview with Firstpost earlier every pair of jeans in the world is made in India. The cloth is sourced from the country. "India exports denim fabric to the world. Benetton, the world's largest casual wear apparel firm, has a design studio in India. Making jeans in India is not a new concept," Ahmed had pointed out.
The fact that Patanjali has achieved brand recall in even smaller towns and cities in India works in its favour though. That could be a good reason why a jeans product may work in Patanjali's favour. "Baba Ramdev has created a large base for himself with his various other initiatives and he can use this base to drive consumers with his latest product, jeans, at a mass level. Swadeshi jeans is a great idea. The term also exudes self-confidence and there is a great essence of nationalism because of the government of the day. And this new initiative can be driven around it. There is a revival of textiles in India and it is used for high fashion, too," says Ahmed.
However, there are serious doubts over the sales target. An analyst was amused by the audacity of that ambition. "Starting from zero in the apparel industry to aim for Rs 5,000 crore in the first year is too much of a stretch," he remarked.
"It is too ambitous a target," said Arvind Pradhan, director-general, Indian Merchants Chamber.  "Paridhan has no presence yet in the apparel market and no USP too. It cannot ride high on the fame of Baba Ramdev alone."
Until the Paridhan brand hits the market, the queries on the fashion, style and price factor will remain a puzzle. Will it hit the target like Patanjali did. That is too far-fetched an idea as of now, industry experts feel.
["Source-firstpost"]