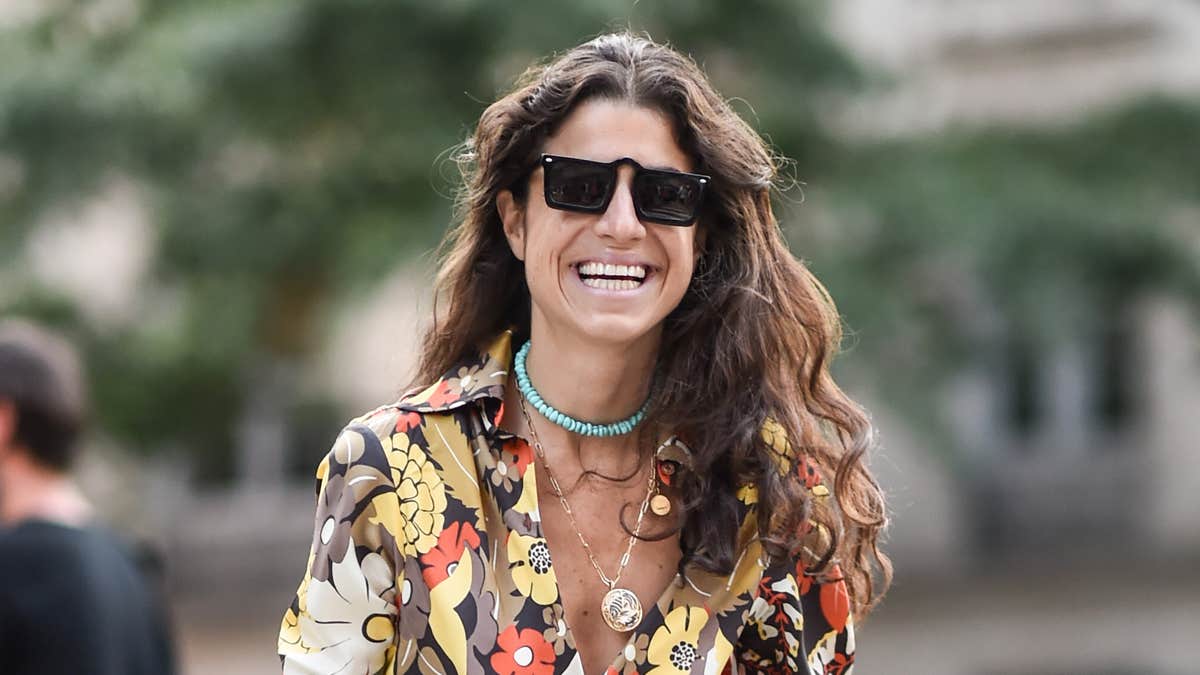 The founder of Man Repeller is already thinking about outfitting you for New Year's Eve 2020. Leandra Medine designed a limited-edition capsule collection for Mango, translating her own personal, eclectic style into an accessible and shoppable line. Medine's selection includes over 30 designs and accessories, ranging from convenient basic garments to elegant festive pieces.
"The inspiration is literally written on the floor," Medine tells Refinery29 at the collaboration's launch party in Soho. "The prompt that I submitted to Mango was New Year's Eve at home in a European ski town among recent college graduates from a New England university in the 1960s."
For Medine, that was the era of good stiff, tight jeans and cardigans. "I wanted to couple that with European flair and glamour. I'm really into sleep leisure and getting dressed up to stay home," she explains. "A New Year's Eve party at home is the most extravagant and decadent thing to dress for."
According to Medine, it's also an easy way for new parents to get in on the celebratory holiday action. We asked the fashion maven if her personal style changed at all since becoming a mother and she says if anything it's become more pronounced.
"Style is a really important means of expression for me, it's just not about clothing — it's actually a really significant part of identity expression in my life," she says. "Losing my style would be the same thing as losing my sense of self and I think that since becoming a mom, I've only come more into myself and become even more self-assured and in the past when I've used fashion and my clothes to figure out who I am. I have a much more solid sense of who I am."
To say that Medine translated a passion for personal style into a profession would be an understatement. In addition to her website, she's collaborated with  Superga, PJK, Atea Oceanie, and wrote a book of personal essays on the matter. One of her New York book launch parties was held at Barneys New York, which declared bankruptcy earlier this year.
"I'm definitely bummed that Barney's is closing, mostly for personal reasons because it represents so much about coming of age and what I aspire toward when I was growing up," Medine says. "I so desperately wanted to be part of the sausage making of fashion. I knew that people made it happen and I wanted to be part of that. So from the angle, it's a bummer. The state of retail is in flux. I don't think retail is dying, I don't think it can die."
Right now, Medine is most focused and excited about Leandra Medine x Mango — a collection that took six weeks in total to complete is entirely sustainable. "Mango has some significant initiatives on the sustainability from in terms of the factories they work with and everything we produced together was sourced from the factory," she says.
According to Medine, some pieces were dropped because they couldn't get it together in time, but the line will expand to a European size 50 (Mango usually stops at a 42). "The collection which is very different for Mango, which is very important to me because Man Repeller is very inclusive," Medine explains. "This collection is supposed to be for everyone."
["source=refinery29"]