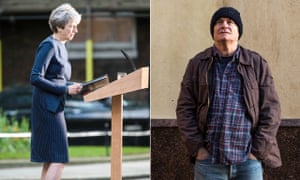 Loth as we are to comment on Theresa May's clothes following trousergate,her "lucky" suit and the kerfuffle over her leopard-print shoes, the sight of the prime minister wearing a dress by a British designer called Daniel Blake to announce a general election is ripe for the unpacking.
The dress itself was a serious pinstriped shift with an interesting neck and one oversized button – an aesthetic that is raging in high fashion at the moment, as seen on the Balenciaga autumn/winter 2017 catwalk. May wore a black coat by Daniel Blake to meet Donald Trump in January.
But what to make of the fact that Daniel Blake is also the title character in Ken Loach's Palme d'Or-winning film I, Daniel Blake – about a Geordie joiner's struggles with the bureaucracy of the benefits system in austerity Britain? At first glance it appears that Daniel Blake the designer brand has little in common with Daniel Blake the Ken Loach character.
The designer is independent, east London-based and launched his label in 2002. His aesthetic is structured, elegant and office-friendly – military coats with Vivienne Westwood-esque oversized lapels; sharp jackets with popped collars. Blake remained shy about the commission, saying merely that he was "delighted that the PM has chosen to wear the asymmetric pinstripe dress with button detail". The prices are benefits-unfriendly – May's dress was based on his pinstripe kimono dress, which comes in at £495 – but it would be unfair to link Blake too directly with the "crush the saboteurs" image of which his dress has unwittingly become part. The designer has been known to retweet the film's anti-austerity campaigning messages with the hashtag #wearealldanielblake, and his past charity projects include helping rehabilitate prisoners through fashion.
Could this be a campaign from the inside? Whether or not May has seen the film is unclear, but she must be aware of it, not least because Jeremy Corbyn urged her during PMQs to watch it to get an insight into life on benefits. He also suggested that the work and pensions secretary, Damian Green, sit in, too; Green described the film as "monstrously unfair" before admitting he hadn't actually seen it. At the very least, it's cheering to think that every time May looks at that dress or her jacket, there will be a little reminder of the devastating struggle of one Geordie carpenter.
[Source:- Gurdian]