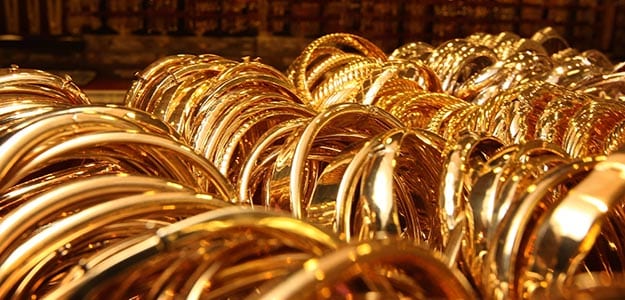 Gold prices eased by Rs 20 to Rs 30,750 per 10 grams at the bullion market on Saturday, in keeping with a weak trend overseas amid muted demand from jewellers and retailers at the domestic spot market.
Silver followed suit and came off by Rs 75 to Rs 46,125 per kg due to reduced offtake by industrial units and coin makers.
Traders attributed the fall in gold prices to a weak global trend where the precious metal headed for its first back-to-back weekly decline since May as gains in equities and the dollar ate into demand for the metal as a storage value.
Globally, gold fell 0.65 per cent to $1,322.10 an ounce and silver 0.73 per cent to $19.59 an ounce in New York on Friday.
In the national capital, gold of 99.9 per cent and 99.5 per cent purity declined Rs 20 each to Rs 30,750 and Rs 30,600 per 10 grams, respectively. The precious metal had gained Rs 120 on Friday.
Sovereign, however, traded higher by Rs 100 to Rs 23,500 per piece of eight grams on scattered buying activity.
Tracking gold, silver ready fell Rs 75 to Rs 46,125 per kg and weekly-based delivery Rs 140 to Rs 46,320.
Silver coins, however, continued to be traded at the previous level of Rs 73,000 for buying and Rs 74,000 for selling of 100 pieces.
[Source:- profit.ndtv]