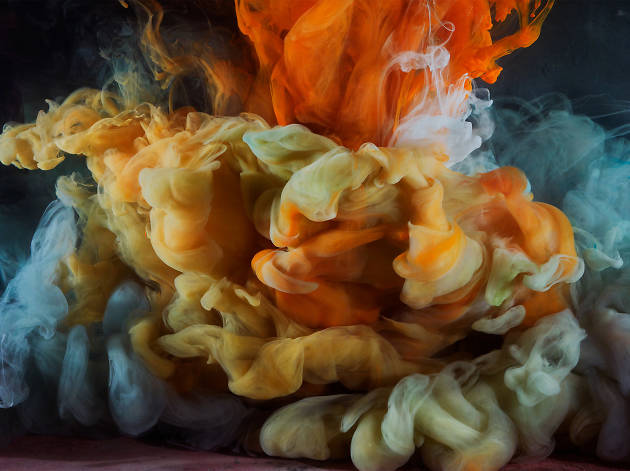 Our senses usually get a pretty good workout living in London. We're never short of stuff to fill our eyes, ears and mouths and get our mitts on. But our noses often get the bum deal, sometimes quite literally. The scents of this city can be pretty gross – armpits on the tube, warm bins, urine-soaked alleyways and so on. Thank heavens, then, for perfume, blessed nose nectar, making stinky Londoners fragrant. Now, there's a new exhibition at Somerset House devoted to the sweet-scented stuff. 'Perfume: A Sensory Journey Through Contemporary Scent' looks at the importance of perfumery in the twentieth century and focuses on ten perfume pioneers from the past two decades. And it's not just a treat for your nose – your other senses will also be well looked after.
SMELL
There will of course be plenty going on in the olfactory department: from the introductory room where you can smell a recreation of an extinct vintage perfume by François Coty, the big dog of modern perfumery, to ten whiffy interactive installations based on key contemporary perfumes. These include the smell of a water theme park, a fragrance inspired by the Sahara Desert and the scent of sexual secretions (yes, that does mean spunk). There's also a fully functioning laboratory where you can inhale the individual ingredients that make up perfumes. Your nostrils won't know what's hit them. Visitors will be given a 'notes-book' to record their impression of each perfume before finding out what it is.
TOUCH
Your hands won't be left out either as there's plenty to play with. Have a rummage in a bed whose sheets have been doused in Antoine Lie's 'Sécretions Magnifiques' (that's the sexy stench of sweat, milk and, ahem, semen); get up close with real shrubs and found objects from the Texan desert for David Seth Moltz's 'El Cosmico'; and queue for a stuffed toy containing the 'Dark Ride' smell of theme parks. Throughout the show, visitors are encouraged to pick up the items that have scent embedded in them, so don't be shy.
HEAR
To give your ears (and mind) a treat, book a spot on one of the many smelly events happening alongside the exhibition. There are two panel discussions with some of the biggest and hottest noses in the business, offering a rare insight into the practicalities of perfumery, demos with the perfumers-in-residence in the laboratory and free family fun with fragrances. Plus there's a chance to learn how to make your own signature scent in a hands-on workshop with the Experimental Perfume Club.
SEE
The show will also be easy on the eye. Each of the installations will be a physical representation of the scent, and have the pong hidden within them. Check out Daniela Andrier's pungent irisscented 'Purple Rain' room with chaises longues covered in vibrant violet and green Prada fabric, Mark Buxton's inky-black sandpit for 'Comme des Garçons 2' and Bertrand Duchaufour's 'Avignon' room, where you'll get the evocative whiff of French Catholic Mass in a confessional.
TASTE
Sadly, there's nothing edible in the show (we'd advise against tasting the perfumes, especially that one), but there are plenty of places to eat nearby, so your tastebuds won't feel left out. Head to the riverside terrace bar which has been turned into a fragrant chinotto grove to try food and drinks inspired by the north Italian citrus fruit.
["source-timeout"]