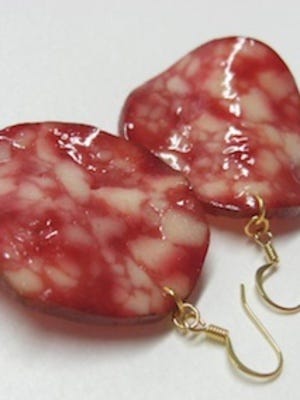 After seeing melting tights, double jeans, and literal knee skirts, we'd thought we'd seen it all as far as wacky fashion goes.
And then we spotted these salami earrings. Oh, yes.
Reminiscent of Gaga's infamous meat dress, the all-too-realistic looking accessory is part of a new line from Fake Food Hatanaka, a Japanese company that solely makes food-inspired jewelry.
The salami earrings go for about $15, while a pizza-shaped necklace will set you back over $100. Other offerings include an eggs-and-bacon bow headband, green pepper earrings, and a starfruit necklace, all of which literally look just like their real-life inspirations.
We don't know whether these accessories kinda make us wanna gag…or kinda make us hungry. What do you think?
["source-cosmopolitan"]