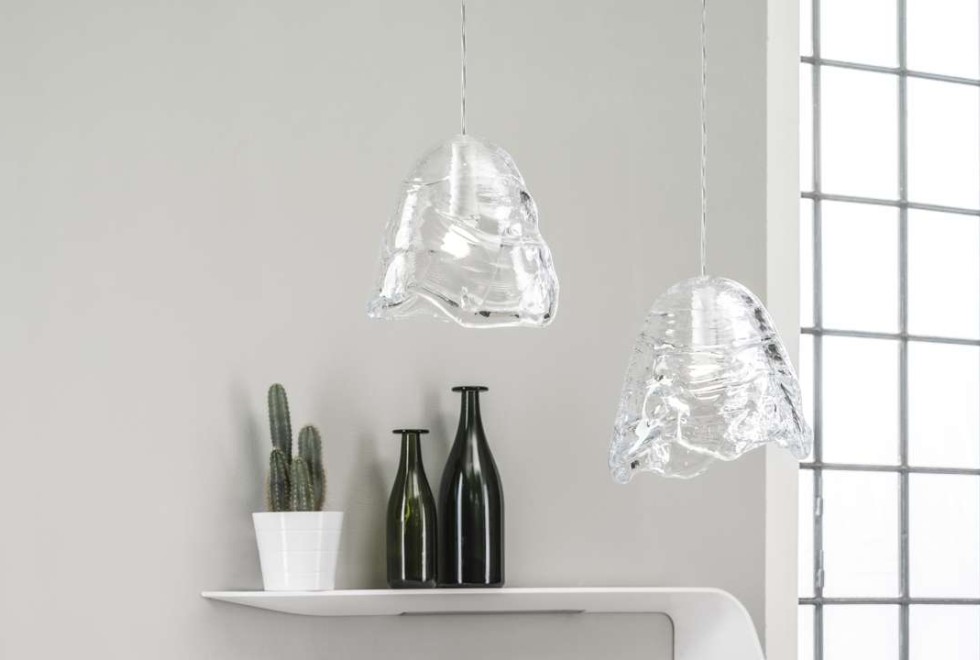 In an era defined by digital technology, the ancient craft of glass-blowing may seem a little old fashioned, but for Lasvit founder and president Leon Jakimic, the tradition has never been more important.
In the past decade the Czech glass manufacturer has forged a reputation for innovative lighting and show-stopping architectural and art installations created through a series of high-profile collaborations between skilled craftsmen at one of the oldest traditional glass-blowing workshops in Bohemia, and a host of international designers and architects, as well as its own in-house team.
While more time consuming and considerably more expensive than the usual design-making process, the collaborative process creates an experimental environment that often leads to unusual discoveries. The "Inhale" lamp by Oki Sato of Japanese design studio Nendo is an example. After observing master glass-blowers at work, Sato hit upon the idea of reversing the usual process of blowing air into molten material. The negative air pressure from inhaling created a sensuous new inverted shape.
Designers also need to feel they have complete freedom to design whatever they like, says Hong Kong-based Jakimič. "We give them only a few design guidelines that we define as "3C: concept, context, craftsmanship" and ask them to use natural, authentic materials such as stone, wood, and metal, with glass or crystal used as the primary material."
It is, of course, easy to talk of creativity and innovation but much harder to put into practice. For Czech artisans whose techniques have remained unchanged for hundreds of years, it called for a new way of thinking, says Lasvit creative director Maxim Velcovsky, whose own ultra-contemporary "Frozen" lamp collection was the result of experimenting with pouring molten glass over a dome shaped metal mould until it created the perfect fluid shape that captured the moment water is transformed into ice. The same approach also enabled British-born, Hong Kong-based designer Michael Young to create the unique base for his "Homune" table with 36 hand-blown individual elements fashioned together into a single statement piece.
More recently, it was the unique opportunity to push the boundaries of the texture and tactility of glass that attracted Hong Kong architect Andre Fu to create a modernist-inspired collection of lighting for his newly launched Andre Fu Living range.
Fu's TAC/TILE family of table and floor lamps and suspended pendants that debuted at this year's Milan Furniture Fair centres on an elegantly simple opaque folded glass "tile" inspired by the 1932 Maison de Verre, Czech metropolitan passageways, and traditional Chinese tiled roofs as well as the designer's favourite architectural material: modernist glass bricks.
Creating the deceptively simple sculptured form with its idiosyncratic organic bubbles and textured edge that boasts a handcrafted aesthetic depended on a complex combination of traditional hand-blown glass components and hi-tech moulding. A single glass tile takes more than a week to produce because it is meticulously heated and cooled within a custom-built press.
"The glass-making process itself triggered many interesting moments that stimulated my perception of glass," says Fu, who visited Lasvit's Bohemian workshop in Novy Bor at an early stage of the yearlong design process.
"I knew this project was never going to be a case of sending off my detailed design drawings and then having the final product delivered but what was interesting was how the process of working closely with the glass-blowers challenged my idea of what glass is capable of and how it could be reinterpreted."
Looking back on the experience, Fu says: "Each of us comes to the design process with our own expertise and mindset, yet it is the collision of ideas and questioning that really pushes the boundaries."
Jakimic said the most important quality in a designer was a willingness to explore new dimensions of glass.
"In our latest collection at the fair we have artists like the Campana brothers and Arik Levy who have extended their original lighting designs for Lasvit into tableware collections," he said. "The material is the same but their creativity transforms it into very different forms."
Of course, a dramatic setting also helps showcase an innovative design. At this year's Milan Fair, Lasvit pulled off the ultimate coup, presenting its exhibition of strikingly contemporary designs inside the opulent historic Napoleonic staterooms at the Palazzo Serbelloni, where Napoleon Bonaparte resided during his stay in Milan in 1796.
"While we were working with our designers to create their contemporary designs, our team of master craftsmen were also busy restoring the precious Bohemian crystal chandeliers that were originally created for Bonaparte in the late 1700s," Jakimic says. "The location perfectly sums up our belief that heritage and cutting-edge design go hand in hand."
[Source:- scmp]