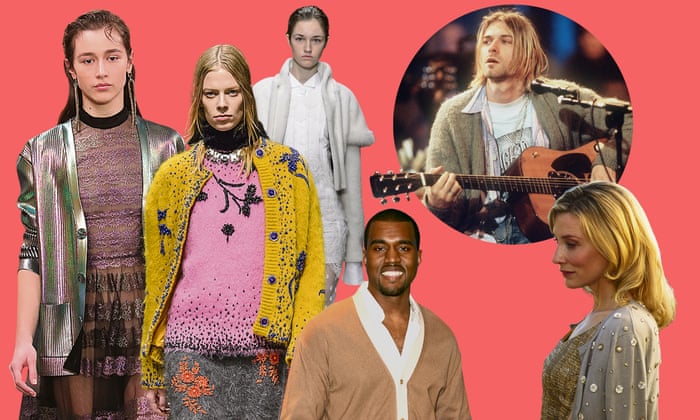 Cardies on the catwalk at Christopher Kane, Prada and Burberry; Kanye West, Kurt Cobain and Cate Blanchett. Composite: Rex/Getty
It's August. But forget about what is happening outside the window. In fashion, that means it's time to think about knitwear. This particular August, that means thinking about cardigans. The humble button-up, usually chucked into the bottom of an out-all-day bag for fear of it getting cold later, is fashionable again – thanks to turns on catwalks including Christopher Kane, Prada and Burberry. To ensure you are a cut above the cardiganed hordes this winter, you'll need cardie inspo. See below.
Doris Day
The beaded cardigan is likely to see its eBay searches skyrocket this season, thanks to Prada. The Italian label had the kind of cardies more usually found in vintage stores, and were once worn – possibly with a Serena Williams-approvedpoodle skirt – by teenagers at soda fountains in 1950s America, inspired by the likes of Grace Kelly and Doris Day. Fashion side note: these girls were also pioneers of the most modern tic, shoulder-robing.
Kurt Cobain
Anyone who doubts Cobain's cult appeal should look to the sale of his dirty cardigan for more than £100,000 in 2015. The Nirvana frontman has long been a fashion moodboard reference and this season is no exception. The shape is similar to the ones Christopher Kane designed: long, slouchy and a bit "doesn't fit, don't care", though Kane's are a lot cleaner. His oil slick cardie is my cardigan goal this season – look here, if you're interested. And, in a twist of circumstance, it's probably – for once – a fraction of the price of the original.
The Log Lady
While the Log Lady, or the actor Catherine Coulson, died in 2015, she lives on in the first episode of the Twin Peaks revival and, of course, through her excellent cardigan wearing. The Log Lady's cardigan plus shirt plus rollneck plus brooch plus log look appeals to the maximalism of one Alessandro Michele, the designer at Gucci currently. He's the man to blame for your impulse to double – sometimes triple – layer your look.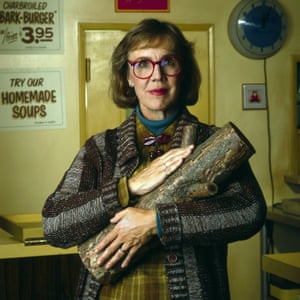 Kanye West
The collegiate style is very much part of the beta Kanye – pre-Twitter rants, pre-Yeezy, pre-Kim. It's also pretty cute, especially when worn by Drop Out Bear on the front of Late Registration, circa 2005. West himself wore his Letterman cardigan with proper bling and stunner shades. It's all a long way from Vetements hoodies, leather trousers and a bomber. Therefore, it will be back in fashion any time now.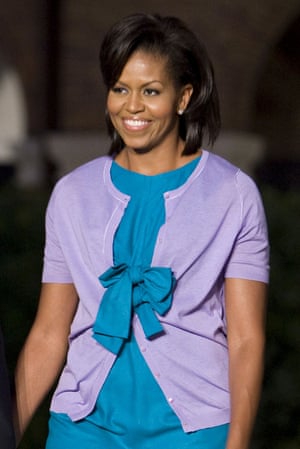 Michelle Obama
Yet another reason to miss the Obamas: Michelle's cardigan prowess makes Melania look – sorry – joyless and contrived. During her eight years in the White House, the former first lady wore brightly coloured cardigans to appear in Vogue, to visit the UK and, of course, to meet the Queen. Thanks to her, cardigans are now acceptable in the most protocol-heavy rooms in the world. Obama is their patron saint.
Cate Blanchett
In Blue Jasmine, Cate Blanchett plays a woman used to the rarified world of the Upper West Side, transplanted to the bohemia of San Francisco. The way you can tell by looking at her? The cardigans. Blanchett has an impressive array of the kind of cardis that women with weekly blowdry appointments love: patterned, embellished and in a tasteful colour palette. In short, the kind of item of clothing that does the public facing even when your life is falling apart.
["Source-theguardian."]