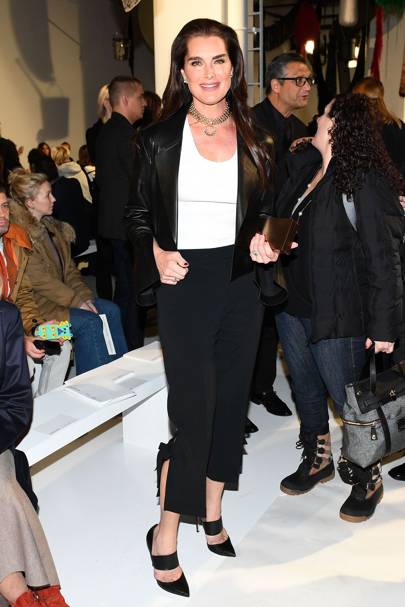 ALMOST 40 years after Brooke Shields's "nothing gets between me and my Calvin's" campaign, the model is teaming up with Calvin Klein again.
Calvin Klein CEO Steve Shiffman revealed the plans at Time Inc's Cannes Lions Shakers & Stirrers event overnight, stating, "We are going to be working with Brooke again very soon."
Shields first appeared in a Calvin Klein Jeans campaign in 1980, aged 15. The ad caused a media sensation, owing to the tagline, "What gets between me and my Calvins? Nothing." Shields subsequently became a household name.
The upcoming partnership is the second time Calvin Klein has paid homage to the 52-year-old supermodel under the creative reign of Raf Simons. His debut autumn/winter 2017 collection featured the 1980 campaign as patches on the back of the jeans sent down the catwalk. Shields, who sat front row alongside Lauren Hutton, Christie Turlingtonand Millie Bobby Brown told WWD that her homecoming felt "both nostalgic and exciting – it feels like yesterday and at the same time it feels like a lifetime ago."
[Source:- vogue]