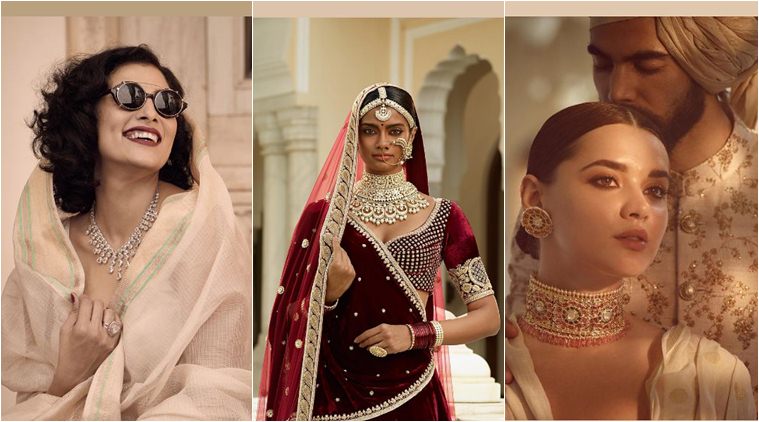 When it comes to opulence in the Indian fashion industry, there is no acing Sabyasachi Mukherjee. With his sheer love for traditional Indian designs, the designer has always tried to imbibe its rich heritage in all his collection. But that doesn't mean his art is restricted to just ethnic fashion. When he launched the Firdaus collection in collaboration with famous French designer Christian Louboutin, we were stunned by the fusion between the two styles. Now, moving beyond garments, the celebrated designer from Kolkata launched his first-ever jewellery collection and it's jaw-droppingly beautiful.
Like his earlier Spring Couture '17 collection, his new Autumn-Winter 2017 Couture & Jewelery Collection too was launched on Instagram. And since its launch over the weekend, people have not been able to stop double tapping it. We bet you won't be able to either. The 'worst' part, we can't decide which is better — the magnificence of his crafted jewellery, or finesse of his haute couture ensembles.
Though previously he has collaborated with Forevermark for a line of rings and earrings called Zanyah, this is his own collection. And if you are an ardent fan of his signature jewellery from 'Kishandas For Sabyasachi', then be prepared to be blown away.
The beautiful 'Sabyasachi Fine and Heritage Jewelry' is an ode to an erstwhile era, as the designer reminisces the beauties of the '20s and the exquisite collection of his grandmother's jewellery. "The twenties have been my biggest inspiration. What a period, what women! Frida Kahlo, Amrita Sher-Gil, Édith Piaf, Devika Rani. I cannot stray too far away from what they represented aesthetically," writes the designer, introducing his collection.
With his childhood memories in Kolkata and sentimental about pairing the right accessories for his brides, he has treated us to six different lines. The Rani Sahib's Diamond, Gulkhand, Couture Bridal, Devi, the Heritage and Baroda collection.
"Growing up, I spent hours rummaging through my mother and grand-mothers' jewelry cupboards. Their taste was simply exquisite. Maybe this is why I feel disappointed. Where has all the art gone? Perhaps it was this question that pushed me to find the answer," Sabyasachi wrote, as he unveiled his extravagant collection.
And likewise, his every collection is soaked in nostalgia, bringing back the lost glory and opulence of yore. "Afternoon teas in Calcutta Club were all about ladies in organza and chiffon saris, coiffured hair, lacquered nails and rose-gold goggles. The red Chanel mouth and the dripping diamonds added to the decadence," he wrote, explaining his vision for the entire project.
Shot at the Rambagh Palace in Jaipur, the elegant home of Maharani Gayatri Devi, again one of his inspiration, the collection is handcrafted with uncut diamonds, rubies, emeralds and pearls — it is classy and sophisticated. It also brings back the lost artworks and designing brilliance. "Indian jewellery is beautiful, arrogant and strong and very individualistic. It's my mission to bring it all back, in all its former glory. And I will not rest till it's done," the design maven said.
From the traditional temple jewellery to intricate Polki jewellery and statement Victorian diamonds, take your pick. And it's not just for women. Of course, like his sherwanis and bandhgala suits, he's got a plethora of options for the men too.
["source-indianexpress"]