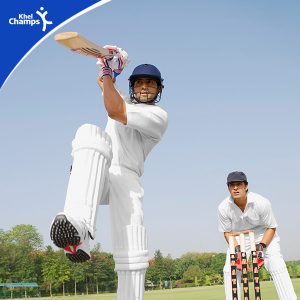 In cricket, all-rounders are the ones who can both bowl and bat. They are great assets to any cricket team because these players can take wickets and swing their bat for a lot of runs. Anyone who plays fantasy cricket understands why it is important to include all-rounders in their cricket team. It is because in an online cricket match, you cannot bat as per your skill-set, but depend on the performance and expertise of the chosen cricketers.
Based on the skill of the selected cricketer, the system shall prompt the shots and bowling style. For instance, a fast-bowler in real life cannot be expected to bowl a spin in a fantasy cricket online game. Similarly a tail-ender batsman cannot be expected to play like an opening batsman in a virtual cricket match.
Thus, when selecting players for your team India on fantasy cricket app, you must know who the top all-rounders are. We have created a complete list of best all-rounders who play for the Indian cricket team at present, so that you can make a suitable choice.
Hardik Pandya
Hardik Pandya bowls right-arm fast-medium and bats right-handed. He is the younger brother to yet another Indian cricketer, Krunal Pandya. Currently, he is playing for Mumbai Indians in IPL 2019. Hardik is an all-rounder in a true sense. In 45 ODIs, he has taken 44 wickets. In 38 T20s, he has taken 36 wickets. In 11 Tests, he has taken 17 wickets. In his very first ODI innings, he scored 36 runs off 32 balls.
Pandya has the right ability to play all types of shots. In the Champions Trophy at the Oval on June 18, 2017, he scored 76 runs from 43 balls. In a Test match against Sri Lanka in 2017, he had scored a century before lunch, which became a first-time record of its kind. He also scored 26 runs off an over in the series, which against was a record of its own kind for the first-time.
You can bank on Hardik Pandya if you want to play fantasy cricket and win cash daily, because he can bat and bowl well in any type of pitch.
Ravindra Jadeja
RavindraJadeja is a slow left-arm orthodox bowler. He is also a left-handed middle-order batsman for the team Indian. Currently, he is playing for CSK (Chennai Super Kings), in the IPL (Indian Premier League) 2019. He debuted on one-day-international game on February 8, 2009 against Sri Lanka, wherein he scored 60 of 77 balls. He then debuted in Test against England on December 13, 2012.
On January 22, 2017, Ravindra had clinched 150 one-day international wickets, being the first Indian left-arm spinner to do so by dismissing Sam Billings in Kolkata. In the Oval Test of 2018, he proved his batting prowess by supporting India through tough time and scoring 86 in one of the innings.
Jadeja can be a great resource for batting and bowling in your fantasy cricket team. You can include him especially for T20s and one-day matches.
Kuldeep Yadav
Kuldeep Yadav is a left-arm Chinaman bowler and a left-handed batsman. He is the only Indian cricket besides Bhuvaneshwar Kumar to have clinched a 5-wicket haul in all the three formats of cricket. Currently, he is playing IPL 2019 for the Kolkata Knight Riders. He has played a total of 44 ODIs (but batted in 18 matches only) with a total of 100 runs and 6 tests with a total of 51 runs.
So, if you want someone who is lethal at bowling and can survive batting in the lower order when playing fantasy cricket online, then you should definitely pick Kuldeep Yadav.
Ravichandran Ashwin
Ravichandran Ashwin bowls right-arm off break and bats right-handed. He is currently the captain of Kings XI Punjab in IPL 2019. He became the third Indian cricketer in 2016 to win the ICC Cricketer of the Year award. Ashwin is also effective with bat. Though he does not bat in the top order, he has proved his prowess at batting in the lower order.
2 years back in a Test match against England, Ashwin had added 97 runs with Ravindra Jadeja for the seventh wicket. In the England series, he had also scored 239 runs in five innings. He is one of the crickets the Team India can rely on for batting in adverse conditions, if the top order collapses.
Final Words
These top 5 all-rounders for Team India have made extreme contributions and shall continue to do so in the future. You can select up to 2-3 all-rounders when playing virtual cricket, in a team. So when your login to a fantasy cricket app the next time, you know the best all-rounders to pick for your cricket squad.