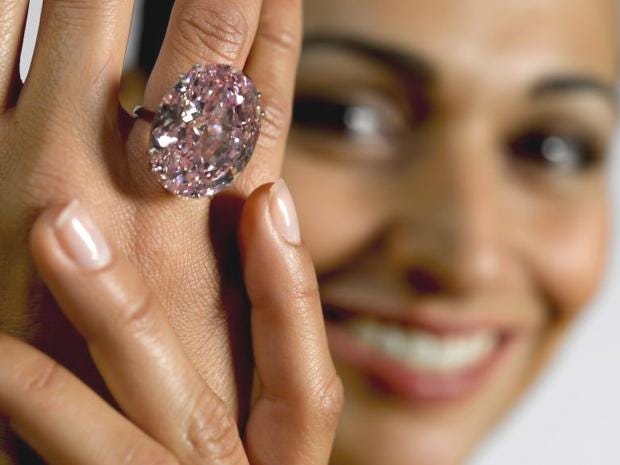 The most valuable diamond to ever be offered at auction is expected to fetch in excess of £37 million.
Described as one of "the earth's greatest natural treasures", the Pink Star will go under the hammer at Sotheby's in Geneva, Switzerland, on November 13.
The oval-cut 59.6 carat jewel is the largest flawless or internally flawless, fancy vivid pink diamond that the Gemological Institute of America (GIA) has ever graded.
It is more than twice the size of the Graff Pink – the 24.78 carat fancy intense pink diamond which established a world auction record for a diamond or any gemstone or jewel when it sold for £28 million at Sotheby's Geneva in 2010.
Chairman of Sotheby's Switzerland, David Bennett, said: "I have had the privilege of examining some of the greatest gemstones in the world over the past 35 years, and I can say, without hesitation, that the Pink Star diamond is of immense importance.
"Its exceptional richness of colour – graded as 'vivid pink' by the Gemological Institute of America – combined with its extraordinary size, are characteristics that surpass those of any known pink diamond in state, royal, or private collections.
"It is difficult to exaggerate the rarity of vivid pink diamonds weighing only five carats, so this 59.60 carat stone is simply off any scale, and passes, I believe, into the ranks of the earth's greatest natural treasures."
Select highlights from the Magnificent Jewels auction will be on public exhibition at Sotheby's locations in Hong Kong, Zurich, London and New York ahead of November's sale.
[Source:- independent]