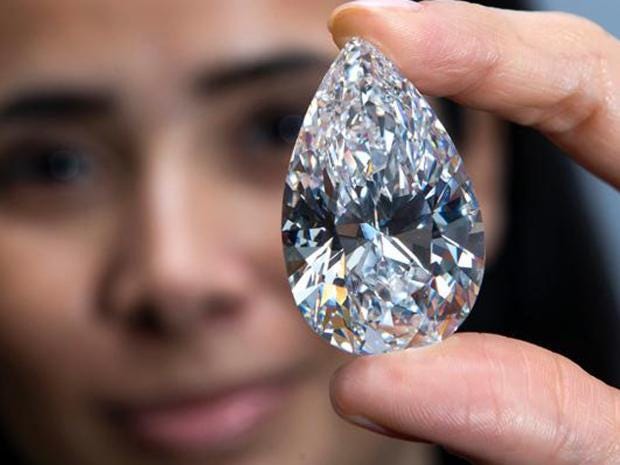 The largest colour flawless diamond ever to be auctioned is expected to sell for nearly £20 million.
The pear-shaped gem weighs 101.73 carats and is one of the most perfect diamonds in the world, according to Christie's, which will hold the 'Magnificent Jewels' auction in Geneva, Switzerland. Christie's head of jewelry, Rahul Kadakia, says the diamond "has literally been sculpted like a work of art."
The diamond is considered perfect because of its colour and its flawless clarity. It's also pear-shaped and completely symmetrical with a rare brilliance, Christie's says.
Experts say the diamond could sell for 28 million Swiss Francs or $30 million (£20 million) and could break the auction record set by the $21.5 million purchase of the 76-carat Archduke Joseph Diamond last year.
"This looks like one for the books," notes industry publication JCK Magazine, adding that the diamond is also a "Type IIa." Fewer than 2 per cent of the diamonds in the world fall into that category.
The jewel was fashioned from a 236-carat rough diamond mined from Botswana's Jwaneng mine, which is owned by De Beers, JCK reports.
The diamond is one of 300 lots up for auction at the Geneva event and the sale is expected to rake in approximately $65 million in total, according to IDEX Online.
[Source:- independent]