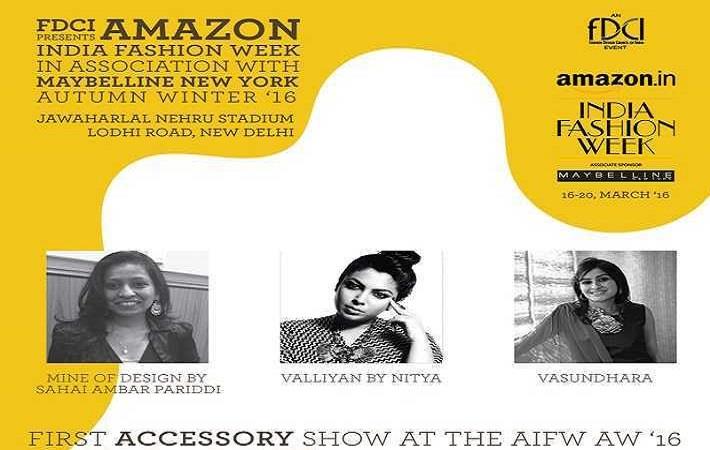 Fashion Design Council of India (FDCI) has announced three accessory designers, who will debut at the Amazon India Fashion Week Autumn-Winter 2016 in New Delhi which begins on March 15.
Mine of Design by Sahai Ambar Pariddi, Valliyan by Nitya and Vasundhara will add sparkle to the runway with their collections, on the third day of the AIFW AW 2016, FDCI said in a press release.
The AIFW AW 2016 is being held in association with Maybelline, New York.
All the three designers have come up with interesting themes. "Memoir" by Sahai Ambar Pariddi captures the compelling magic of the sea from the iridescent pearls, corals, shells to the vintage coins, displaying their magnificent colours that get reflected on the surreal waves hitting the shores.
Vasundhara's collection "Au Naturel" is all about the wilderness by integrating natural rocks, filigree leaves, twigs, branches, insects and bugs in elaborate forms and patterns allowing you to adorn yourself with the beauty of nature.
The past meets the present in "Modern Mughals" a collection by Nitya of the label Valliyan, which pays homage to the luxurious aura of the Mughal dynasty. Nitya recreates intricate motifs in a contemporary style to give a sense of grandeur and opulence.
Sunil Sethi, President, Fashion Design Council of India said,"Accessories are an integral part of an ensemble, keeping this in mind, we started the accessory show which will showcase the prowess of alternate jewelry. This also opens the doors for debutant designers, who will add a new dimension to the fashion week."
[Source:- Fibre2fashion]