Blame it on our piquant palate, or the climate of the country, or abundant spice produce, we like our food spicy, and we have no qualms about it. While western countries can't take so much heat in their food, we (or at least most of us) seem to never get enough of it. North Indian food, (Punjabi, especially) can be credited for bringing up our threshold. From samosa to aloo tikki, there is so much variety of snacks in this region – almost all with spiciness overload. While we love all these delicacies from the northern part of the country, offerings from the southern regions are also close to our hearts. Idli, appam, uttapam, and more such south Indian foods find their way in kitchens all across the country. But if you want the best of both worlds, you'll be surprised to find so many south Indian foods teeming with spice.
1. Chicken 65:
This original South Indian starter is perfect to satiate your evening hunger. Chicken strips are marinated in a spicy mixture, then coated and deep-fried, and then again topped with a tempering of red chillies and other spices – need we say more? Just hop on to this recipe of spicy Chicken 65.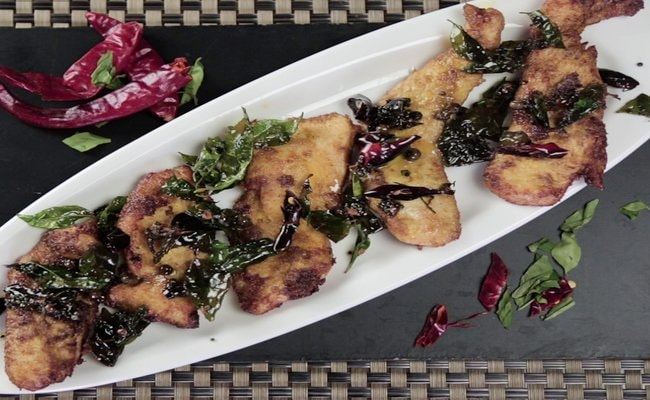 2. Punugulu
This south Indian dish is a famous street food of Andhra Pradesh and can give a fierce competition to Delhi street food. Made with idli or dosa batter, it is dunked in onion-yogurt, filled with green chillies before frying. Check out the recipe of Punugulu here.
3. Aloo Bonda
This fried round fritter made with a spiced aloo mixture and coated in besan batter is all you need to tingle your taste buds. This bite-sized dish is perfect to go with every sip of your chai. Find the full recipe of aloo bonda here.
4. Kerala Fried Prawns
Seafood lovers, this one is for you. If you love prawns, make this Kerala speciality of fresh prawns, cooked in a pool of coconut oil, spiced with both red chilli powder and whole red chillies! A must-try prawn snack – click here for the recipe.
5. South Indian Fried Chicken
Can we ever go wrong with the classic fried chicken? Never! And if you spice it up with loads of whole red chillies along with other spices, it is just perfect! Try this south Indian special fried chicken recipe for a great evening starter. Click here for the recipe.
["source=ndtv"]