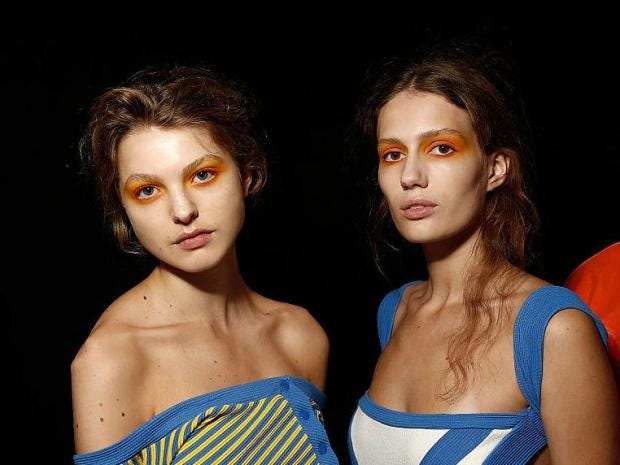 Make-up ripped from the skies is taking over the beauty world, with combinations of pink, coral, orange and bronze, replicating the most mesmerising of sunsets. It really is the perfect way to give your beauty stash an immediate summer update, so forget taking a picture of the magic moment and try wearing it on your eyes instead.
A look that's had designers encapsulating the seasonal feel of pollen, the runway has been dominated by make-up looks in fiery orange, cinnamon and glowing ombre hues. At Fashion East, model's eyes were awash with shades of amber and flame-licked yellow, while make-up artist Val Garland used subtle pinky-peach tints that focused not just on the lids but also the cheeks and lips.
Similarly, Hannah Murray created a soft Eighties-inspired look at Topshop Unique, with warm copper eyes topped with Vaseline. At Salvatore Ferragamo though, the models sported bold glossy stripes of bright orange for a more arty take on the trend. Aside from the runway, sunset-hued beauty launches have seemingly broken the Internet over the past few months, arguably thanks to the launch of Anastasia Beverly Hills' Modern Renaissance palette that sold out in a matter of hours.
This is a common drawback to the popular crop of sunset-hued beauty launches, though with other products such as Huda Beauty's Rose Gold Edition Textured Shadows Palette and Urban Decay's Naked Heat Palette following suit, there are an excess of 10,000 posts under the #sunseteyes hashtag. Luckily, there are plenty of alternatives out there to help you master this beach-ready look but how should you use them?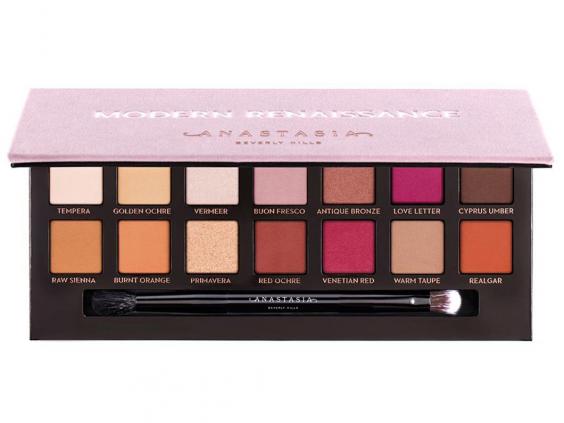 If you have fair or medium skin, go with soft peach or coral shades, while bold bright oranges and tangerines are best suited to darker skin tones. The tools you use are vital here, too, so make sure to invest in some quality brushes. For a bolder take, pack shadow on to the lid with a flat-head brush and haze out the edges. Otherwise, work a small amount into the crease of the eye with a blender brush to slowly blur the shadow out.
Remember to keep the skin fresh and glowy, the lips neutral and add a coat of mascara for wide-awake eyes.