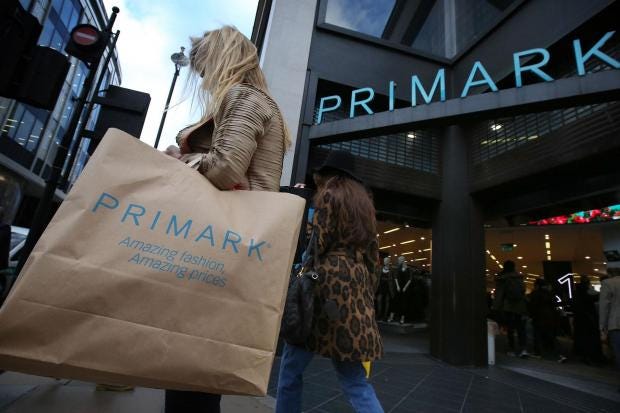 Primark shoppers have been warned to stay away from a fake £100 discount voucher circulating on Facebook this week.
The Facebook post claims that Primark is giving away the coupons as part of the discount retailer's anniversary celebrations. It encourages social media users to click on a link and participate as instructed.
However experts have warned that anyone who does so is likely to have their personal information stolen and their friends are likely to be spammed in the process.
 Hoax Slayers, a website which aims to debunk email and internet hoaxes, first reported the scam in January this year, but the voucher reappeared on Facebook this week.
The link in the message opens a fake website that asks users to complete a survey about their shopping habits at Primark, Hoax Slayers says.
Users will next be told they must share the voucher on Facebook and post the link to 15 of their friends on the social network.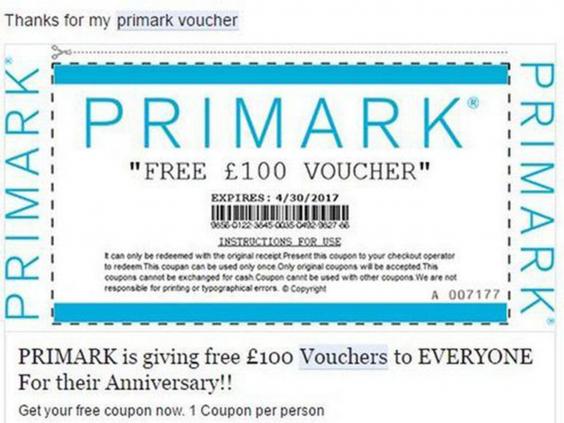 However, no matter how many surveys Primark fans complete, they will never receive one of the promised vouchers instead, Hoax Slayers warns.
Last month, German retail Aldi warned that supposed £65 vouchers circulating on Facebook and Twitter are worthless and will not be accepted as legal tender at their stores.
Online retailer Amazon in January warned customers they could loose hundreds of pounds if they fall for a "convincing" fake email scam.
A spokesperson for Primark said told The Independent: "We are aware that some fake adverts have been circulated on social media."
"We advise all our customers to ignore these posts and not to submit any personal information."

["source-independent"]