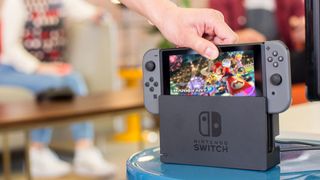 The Nintendo Switch has plenty of room to grow, but even so, the home/portable hybrid console already has some stellar titles under its belt in 2017 – enough to make it a must-own. And that's without mentioning that Super Mario Odyssey is coming later on in the year.
If you've read our review and have purchased a Nintendo Switch for yourself, welcome! With our combined experience of thousands of hours spent with the Switch, we've compiled the following guide just for you, bringing the latest information and the best tips to the surface, as well as a few essential accessory and game recommendations.
Nintendo Switch
Free trial
VIEW
Latest system update: v3.0
The Nintendo Switch is currently on firmware version 3.0, the biggest update yet that brought along a slew of bug fixes, security updates, as well as features both big and small that Switch owners will appreciate.
Here are the highlights, straight from Nintendo's changelog:
Add friends from your Nintendo 3DS and Wii U Friend Lists
Receive notifications when your Friends go online
Find paired controllers within communication range by activating the vibration feature
Change the user icon order on the Home Menu
Select from 6 new Splatoon 2 characters for user icon
Change the system volume from the Quick Settings
The maximum volume when using headphones or speakers connected to the audio jack has been raised and can be lowered if desired.
Change display colors to Invert Colors or Grayscale
Use the Nintendo Switch Pro Controller via wired communication by connecting the USB charging cable
Update connected controllers
Added a feature that suggests deletion of software data if there is insufficient space when downloading other software
What's coming next?
In terms of features, the Nintendo Switch Online service will drop officially on July 21. Its release coincides with the debut of Splatoon 2, which will be the first title supported by the platform.
For the uninitiated, Nintendo Switch Online isn't like Xbox Live or PlayStation Network. Sure, it will bring about online matchmaking and voice chat, however, most of the networking tasks aren't handled on the console itself. For that, you'll need an iOS or Android device and a free app coming July 21.
For those who have clamored for more online functionality, the mobile app should satisfy, but we'll have to wait until July 21 to try it out ourselves. Nintendo plans to offer the service in limited fashion for free until the turn of the year, when it will begin charging $19 for a one-year membership, $7.99 for three months of service and $3.99 for one month.
Other than Nintendo Switch Online, features like video streaming functionality and Virtual Console are still MIA for the foreseeable future.
Still don't have a Switch? Here are the best Nintendo Switch deals
["Source-techradar"]