Netflix got into the fashion industry in January with Next in Fashion, its competition show looking for a hot new designer. In the series' 10 episodes, judges Tan France and Alexa Chung cut down 16 designers to 1, who won a quarter of a million dollars and the support of Net-a-Porter, which will launch the winner's collection on their site this month.
Who won Next in Fashion?
After a close grand final in which Minju Kim battled against Daniel Fletcher, the former won with her Frida Kahlo-inspired collection in Next in Fashion Episode 10 on Netflix, meaning that the 33-year-old South Korean designer took home the Net-a-Porter investment and the chance to showcase her designs on the international fashion website. The competition was clinched for her after a tight 10 weeks when guest judge Eva Chen of Instagram said of her bridalwear, "I want to get married again just to wear this dress," which came after she had won in Episode 2 for another wedding dress.
The final was overseen by Elizabeth von der Goltz, Global Buying Director at Net-a-Porter, who will make Kim's designs available to an international audience in the coming months.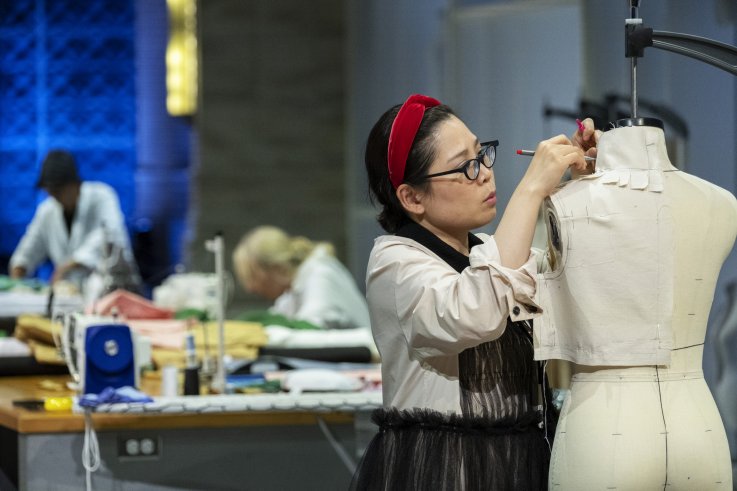 This is not the only prize the designer has won in her career so far. In 2013, she won the H&M Design Award, while in 2014 she was shortlisted for the LVMH Prize for Young Fashion Designers. As part of her prize package for the former award, she released a capsule collection for the fashion brand. The designer also counts global megastars BTS among her former clients.
How to buy Minju Kim's collection
Net-a-Porter has confirmed to Newsweek that Kim's collection will launch in February, though they would not reveal a more specific release day. In the meantime, however, the designer is selling clothes on her own website. Highlights from her latest runway collection, meanwhile, can also be seen on her Instagram.
Another site where international fashionistas, who cannot navigate the sections of Kim's website in Korean, can buy the Next in Fashion winner's clothes is on Society A, a fashion store dedicated to Asian designers.
On the website, they say of her most recent collection: "MINJUKIM is a contemporary woman's wear designer brand. The strongest competitive edge of MINJUKIM would be fabrication fully developed based on Minju, the designer, using different techniques suitable for each season's concept. Every season MINJUKIM present new fabrication and shapes which tells a story of Minju's very personal drawing."
Next in Fashion runner-up Daniel Fletcher, meanwhile, has made his most recent menswear available to purchase on his own website. The designer is also soon to release his first collection as artistic director of menswear at Fiorucci.
["source=newsweek"]