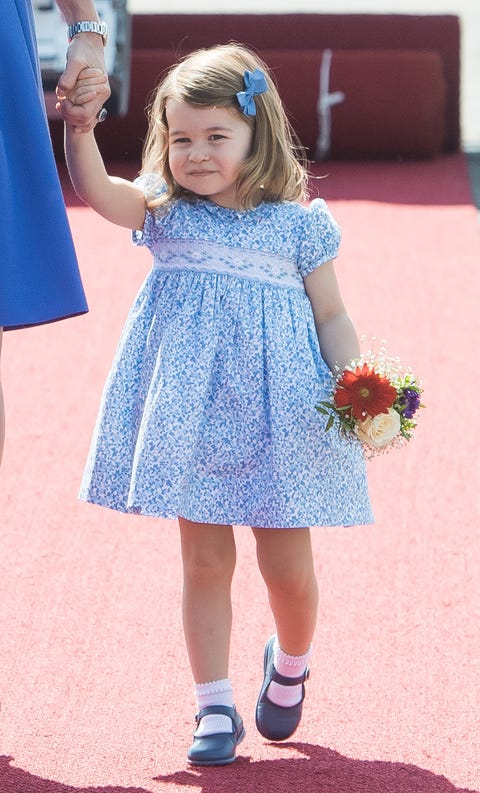 Princess Charlotte is currently on an official royal tour with her brother George and their parents, the Duke and Duchess of Cambridge. On Wednesday, the Cambridges departed Warsaw, Poland for Berlin and moments before boarding the plane, Princess Charlotte decided it was time to debut her curtsy. After some light encouragement from her mother Kate Middleton, Charlotte delivered the teeniest, tiniest royal farewell to some Polish dignitaries, who appeared to not notice. (That, or they were simply keeping things professional even though they probably wanted to squeal, "OMG Charlotte well done, that was sooooo cute.") Here is the precious moment, courtesy of The Telegraph
Charlotte likely learned the art of the curtsy from her mother, who was photographed greeting Queen Elizabeth with a curtsy on Easter earlier this year.
Oh by the way, upon arriving in Berlin, Charlotte also delivered her first diplomatic handshake. This is precious
Once you're done watching Charlotte's adorable curtsy and/or handshake for a 12th consecutive time, do take the time to (1) practice your own curtsy, because you never know when you'll be in the presence of royals (Hi, Harry), (2) channel your inner Prince George, because every day is Monday TBH, and (3) enjoy these photos of Charlotte arriving in Berlin. Look, she even got her own bouquet!