Miscreants robbed a man of jewellery items worth Rs 80 lakh in Jhanwar area here on Sunday. The jeweller chased their vehicle but could not succeed.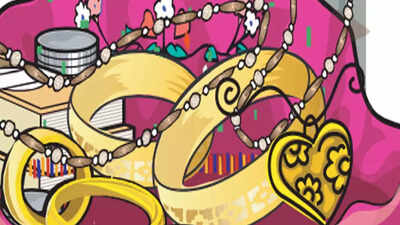 Police have begun to search for the robbers through CCTV footage. However, the covered faces of the robbers and a vehicle without a number plate has made it difficult for police.
According to Jhanwar police, Babulal has a jewellery shop Maa Bhagwati Krupa Jewellers in Vishnu Market locality. "On Sunday evening, he left for home on his scooter with his son. He had two bags containing gold and silver jewellery," police said.
A little away from the shop, a car honked from behind. When Babulal made some way for the car to go past him, it stopped him.
One of the car passengers, with his face covered, dashed out of the car. He swiftly rushed towards Babulal and picked up both the bags. Before Babulal could understand anything, the man ran back and sat in the car as it sped away.
"He tried to chase the car with his son but lost the balance in confusion and fell down, while the car disappeared soon from the spot," police said.
According to Babulal, one of the bags had 1.2 kg of gold jewellery while the other bag had silver jewellery weighing 17 kg. He informed police that the jewellery had been made for different clients.
["source=timesofindia.indiatimes"]