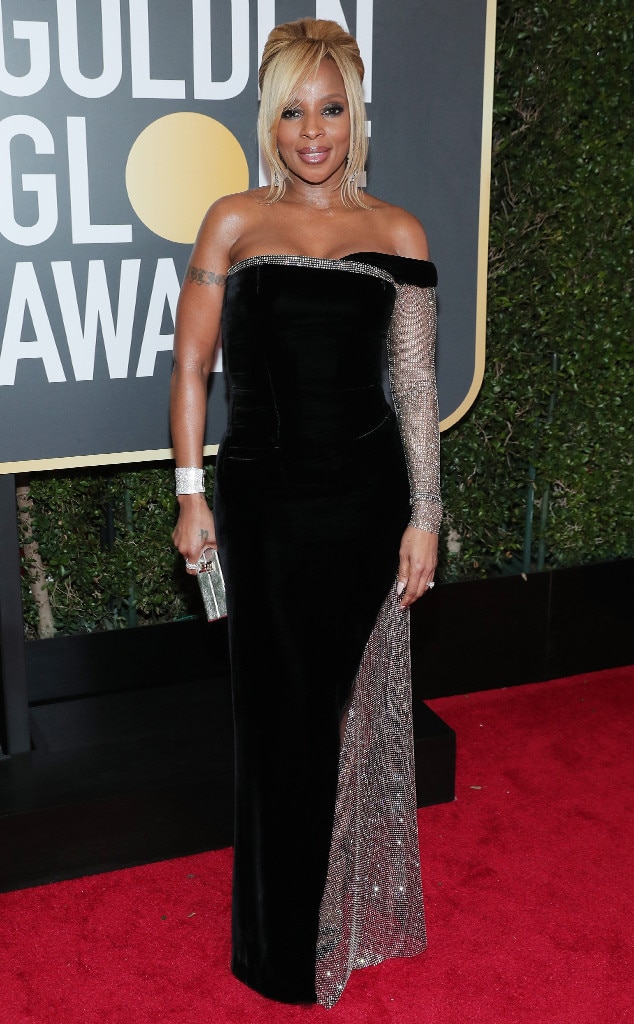 "It's a lot, a lot of work."
Law Roach put it simply. With three days until the 2018 Golden Globes, a "bomb cyclone" looming over New York City and an industry jolted by widespread sexual misconduct allegations, the Hollywood stylist had a full plate when it came to his main task: finding a nominee something to wear for one of the biggest nights in their career.
This year, the star at the center of his plate is Mary J. Blige, the longtime triple threat nominated this year for her second and third Golden Globe Awards—including her first acting one—for her hailed performance in Netflix's drama, Mudbound, and the film's original song.
"We've known Mary from the music videos and the stage for all these years, but we're just now getting familiar with Mary J. Blige the actress and now the Golden Globe-nominated actress, so it was very important to me to show her different silhouettes and designers that she hasn't worn before," Roach told E! News ahead of the big night. "I think that's almost always our job as stylists to familiarize our clients with different things and help push and elevate their style and their aesthetic."
The proof was in the final look: a custom Alberta Ferretti asymmetrical black gown with distinctive metallic embellishment on the sleeve and train. "She definitely wants to stand in solidarity with the rest of the women that are going to be on the carpet and wear all black," he told E! News ahead of the ceremony.
As evidenced by the carpet Sunday night, a sea of stars followed suit in meaningful noir ensembles, a visual signal of unwavering support for the Time's Up initiative fighting systemic sexual harassment and inequality. However, the sartorial request—albeit entirely embraced—posed an unexpected mission for those like Roach responsible for making their client's red carpet vision come to fruition.
"I think it's a challenge because now you have every stylist in Hollywood all vying for the same black dresses," he explained. "There's only so many black dresses in the world—we're all fighting for those."
A first of its kind, the black dress initiative presented itself logistically like a welcome surprise, keeping everyone on their toes. "We were all kind of waiting to see if it was just a rumor or if it was really going to happen," Roach recalled. "Of course we were happy to support that, but it kind of threw a little curveball in the preparations that we already began."

In years past, fashion has typically been a topic of award season, but Roach expected the conversation to shift significantly. "You want to make sure that your client still has a moment, but I think the emotion and the feeling of the carpet isn't going to be about the dresses and the jewels—it's going to be about something else," he acknowledged. "I think it's more about this movement and what these women are doing and why they're doing it that's really the story."
Join the Movement: Click here to donate to the Time's Up Legal Defense Fund
Frazer Harrison/Getty Image
However, before the movement could unfold on the red carpet, Roach was focused on getting the actual dresses into his clients' hands. "There's a storm in New York," he said on Thursday. "[People] don't get to see the million emails and the stress about FedEx and UPS and DHL."

While something like a blizzard can't always be anticipated, certain elements of the styling process remain consistent, like figuring out how the ensemble will look through a lens.

"We definitely take pictures," the America's Next Top Model judge said of their pre-ceremony prep. "[We] try to take pictures from all angles and make sure that it photographs as [beautifully] as we see it in person and sometimes some dresses just do look much better in person than in pictures, but you also have to think that the public and world won't get a chance to see it in person, so the picture is what's going to live on."

However, as he said, "some clients don't really care" about how it photographs, in which case the options are pretty much limitless.

No matter what, he does stand by the importance of tailoring. "It's probably the most important thing once you figure out a dress for men and women on the red carpet and off," he told E! News. "It's amazing. Good tailoring can actually change the appearance—you can have something that's really not that expensive, but if it's tailored to perfection, it always looks a little bit more expensive or more rich or more pulled together."

Other than that, Roach isn't a fan of rules in fashion. "I think the whole thing of what's appropriate at [an] age—I think that's just a way for people to try to control women. I think there's no reason a woman shouldn't wear whatever she wants at [whichever] age, weight, height," he added adamantly. "I don't think it's fair or right and I don't take part of it."

"Wear what you feel the most beautiful in and it's as simple as that," he insisted. "I don't think women should listen to fashion experts or people like me telling them what's best for them and their shape and their skin tone—I think that women should wear whatever it is that makes them feel the most beautiful and the most confident…You always know when women walk in a room and they're feeling beautiful—it's because it's something special. It's an energy you cannot deny."

["Source-eonline"]