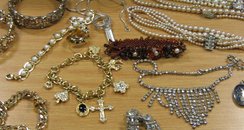 Fourteen sovereigns of gold jewellery were reportedly found stolen from a house at Elango Street at Mahalingapuram in Pollachi on Wednesday.
The police said that the victim M. Selvaraj (32), a farmer, and his family stayed in an apartment and went to their native village near Negamam on Saturday.
On returning home on Wednesday he saw the front door of the house damaged and jewellery missing. Mahalingapuram
Police have registered a case under sections 457 (house trespass or house breaking to commit an offence) and 380 (theft in a dwelling place) of the Indian Penal Code. Further investigations are on.