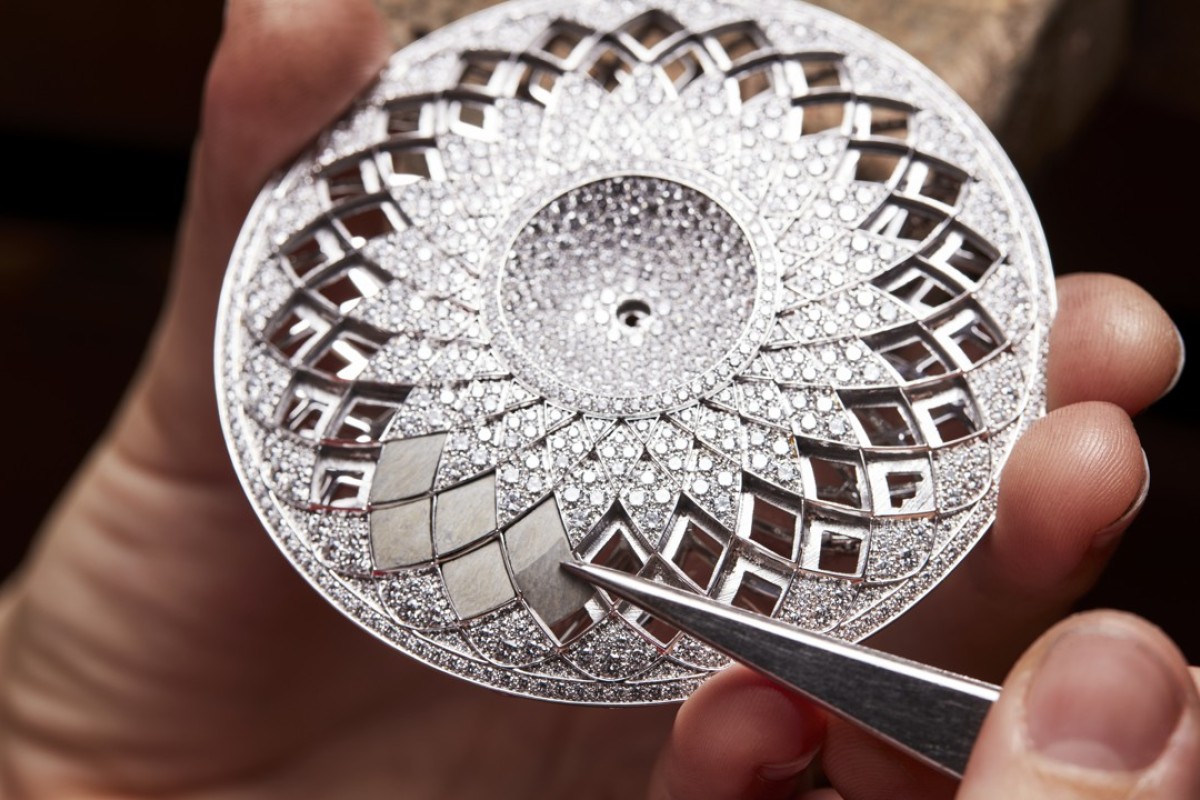 What would you expect from a 30ct diamond ring? Boucheron's take on it was certainly unconventional. Creative director Claire Choisne filled a clear rock crystal sphere with those diamonds as if she'd frozen a snowball for eternity and made a ring out of it.
"The idea was to create a snowball and snowballs don't shine like the sun," Choisne says. "It's more subtle."
The effect was not easy to achieve. New tools were developed to clear the inside of a crystal sphere through a tiny hole until eventually the dome came to only 1.3mm thin.
"Filling the sphere with over 30ct of diamonds creates an optical illusion that the rock crystal has disappeared," she explains.
Such subtle details that could be easily overlooked by novice collectors, however, intrigue seasoned connoisseurs.
High jewellers are appealing to their sophisticated clientele with subtle and luxurious details achieved through innovation and savoir faire. Luxury watches have already adopted the philosophy. Laurent Ferrier's sought-after Galet Classic, featuring a tourbillion only visible through the caseback, has become one of the house's signature timepieces. Subtle metiers d'arts, such as gold granulation, grand feu enamel and hand guilloche appeal to veteran watch collectors.
Independent watchmakers show their whimsical side at SIHH
High jewellers, known for having the wow factor, are using their own approaches to catch up with the subtle luxury trend with their own approaches. Some use unconventional materials, and some increase the versatility of their pieces by creating transformable options, while others invest in mechanisms that make the pieces comfortable to wear.
"Techniques are not achievements per se," says Nicolas Bos, CEO and creative director of Van Cleef & Arpels. "We don't try to develop technique just for the sake of the technique. We are always serving a motif, a design and a story."
High jewellers turn heads with transformable pieces
The intricate and subtle savoir faire – sometimes taken for granted – is what makes high jewellery coveted by collectors in the know.
The quality of stones, even if not visible to the eyes, is also a guarantee of the houses' expertise. Celebrated high jewellers have their own strict criteria for gem selection.
Tiffany & Co accepts only 0.04 per cent of gem-quality stones. Harry Winston's latest high-jewellery collection Legacy features 22 unique pieces, all of which use a D colour, internally flawless diamond as the centre stone.
Those details might not be the most obvious to the untrained eye. However, they demonstrate the essence of high jewellery – top-notch quality, craftsmanship and aesthetics.
Examples of such masterpieces were featured in high jewellers' latest collections unveiled last month during Paris Haute Couture Week.
Heritage maisons such as Boucheron and Bulgari as well as contemporary high jewellers such as Cindy Chaoare incorporating unconventional materials such as rock crystal, titanium, wood and silver, into high jewellery collections. The techniques required to manipulate such materials can often be extremely complex.
The diamond pendant of Boucheron's Rostov necklace featured wood marquetry. The aspen wood used was treated to create a special patina that mimics the weathering effect of nature.
"We mix the unconventional materials with diamonds and precious stones," Choisne says.
"The key is not really [the value of the materials], but how they can best illustrate our creativity, concept and emotion."
Chao agrees and says the choice of materials creates the aesthetics and emotions she wishes to achieve through her art jewellery.
"I chose to incorporate silver into high jewellery to achieve an antique feel, and I chose titanium for a more contemporary touch," she says.
"As a designer, it's important for me to be able to utilise different materials to convey the [messages] I want to express through my jewellery."
'Daring' independents inject creativity and dynamism into world of luxury watches and high jewellery
To incorporate silver in high jewellery, Chao had to recruit a third-generation silversmith who is still practising the complicated traditional techniques suitable for high jewellery.
Apart from the use of unconventional materials, jewellers are coming up with creative designs that cater to clients who have more discreet tastes.
Van Cleef & Arpels' latest high-jewellery collection, aptly named "Le Secret", features exquisite masterpieces with hidden surprises.
"We wanted to express in the collection the tradition of intimacy associated with jewellery," Bos says.
The Cachette des coccinelles brooch features diamond-encrusted leaves that can be moved aside to reveal a tiny ladybird – a secret reserved only for its wearer.
The Sous son aile clip features a parrot made of colour stones. A baby parrot hides under its mother's wings, which is revealed through a delicate mechanism.
"High jewellery is serious and traditional. We are looking at rare and precious materials and very expensive pieces. But I think it's also nice to balance it with playfulness, whimsicality and, sometimes, a touch of humour," Bos adds.
"At the end of the day, jewellery is made to please and put a smile on the face of the wearer."
WE DON'T TRY TO DEVELOP TECHNIQUE JUST FOR THE SAKE OF THE TECHNIQUE. WE ARE ALWAYS SERVING A MOTIF, A DESIGN AND A STORY
The transformable element has seen modern interpretations in the past few years. The concept has been reiterated by Van Cleef & Aprels, Cartier, Boucheron and Chaumet.
For its latest high-jewellery collection, Boucheron adapted the concept to the Flocon Imperial necklace. The necklace can be worn seven different ways, including as brooches and hairpins. Chaumet has created the Pastorale Anglaise necklace with a detachable emerald pendant.
Such "surprises" cannot be achieved without the maisons' excellent know-how expertise. Van Cleef & Arpels' designers and craftsmen turned to archive pieces such as the iconic zip necklace for inspiration and developed mechanisms that are suitable for modern lifestyle.
The concept of high jewellery has evolved. High jewellers are also focusing on the wearability of the pieces – whether they are comfortable or not.
Although some of the subtle details mentioned above might be taken for granted, they are what sets the high jewellers apart from their competitors.
Lightness and fluidity are important for high jewellers. Chao's iconic Phoenix feather brooch was auctioned in May this year for HK$8.7 million at Christie's. The piece was incredibly light – equal to the weight of two macaroons, according to Chao – thanks to the use of titanium.
Watch: Christie's features Adrian Cheng,Cindy Chao, Edmond Chin and Michelle Ong in its Magnificent Jewels Spring Sale
Boucheron's Choisne tries on her own designs to ensure they are comfortable. She also makes sure that transformable pieces can be executed with ease. "We know that we don't want to wear earrings that hurt or necklaces that are too heavy," she says.
While modern techniques and innovative materials are helping high jewellers to enhance ergonomics and comfort, heritage savoir faire is more relevant in achieving subtly luxurious details.
Van Cleef & Arpels boasts the patented Mystery Set – where prongs on jewellery pieces are invisible. Wellendorff's iconic gold rope necklaces are woven from 18ct soft gold threads. The resulting products are coveted by connoisseurs and collectors.
"Cutting a single stone using the Mystery Set technique can take two to eight hours," says Catherine Cariou, Van Cleef & Arpels' heritage director. "The challenges also include finding stones that match in colour and quality."
Van Cleef & Arpels works its magic with the Automate Fee Ondine Extraordinary Object at SIHH 2017
She says to test if the stones are perfectly set, the craftsmen slide a piece of paper in between. If the paper doesn't slide through, the stones are perfectly set.
Hanspeter Wellendorff, third generation of the founder of the German high jeweller Wellendorff, recalls that it took him two years to develop and perfect the gold rope technique.
"We are [looking for] refined taste," Wellendorff says. "We don't want to dominate the person who wears our jewellery. Our customers are very curious about how our jewellery is made."
Choisne agrees that high jewellery customers appreciate the subtly luxurious elements as they become more and more knowledgeable.
["Source-scmp"]