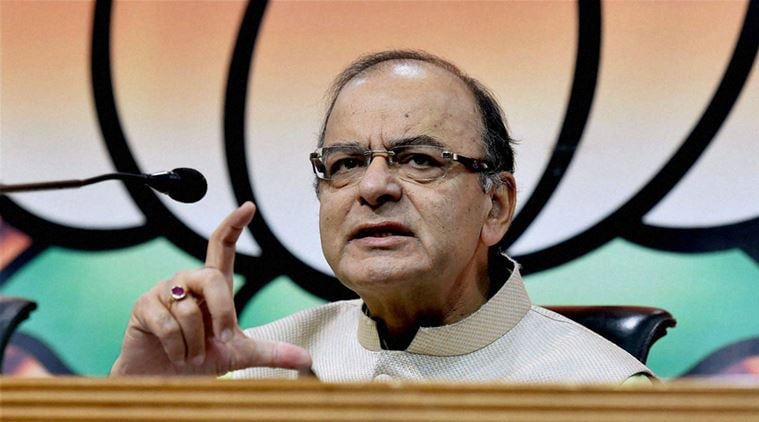 Government in Rajya Sabha today refused to budge from its stance on levying one per cent excise duty on non-silver jewellery saying luxury items cannot be kept out of tax ambit for perpetuity, prompting a walk-out by members of the Congress and SP. Tearing into the opposition charge that imposition of the levy was killing the trade, Finance Minister Arun Jaitley refuted the allegations saying when items of common use were being taxed, how could luxury items be kept out.
Asserting that there was absolutely no harassment of artisans, Jaitley said corporate jewellers with upto Rs 12 crore turnover last year came under its ambit and upto Rs 6 crore turnover in a fiscal later are exempt from it. "Clearances up to Rs 6 crore in a financial year (if clearances during preceding year were less than Rs 12 crore), are exempt from this duty," Jaitley said, adding "thus small jewellers and artisans are not covered within the ambit of this levy."
Opposition members had earlier charged the government of killing the traditional jewellery trade and promoting the big brands by imposing the levy. The jewellers have been on a nationwide strike for over 40 days to protest the levy. Jaitley said even imitation jewellery attracted 6 per cent excise duty. He said the opposition should understand that it is a complex subject and when taxes are levied on items like steel, cement and clothes, luxury items cannot be out of its purview.
"We have to decide on which items we will impose excise duty and if there is any structured trade, they do not get the right to resort to agitation against tax," he said and challenged the opposition that if they were so concerned about it, they should get the 5 per cent VAT removed in Kerala.
"Each state imposes VAT on gold and in Kerala it is as high as 5 per cent and if you (opposition) are so much concerned then get it removed from Kerala," he said. Dismissing charges that excise duty has hit hard small artisans, the Minister said the trade has not developed such that annual turnovers of small jewellers has crossed Rs 6 crore and stressed that "this is implemented on big chains."
Jaitley said the UPA government had imposed taxes on jewellery in 2005 but had recalled it in 2009 in the face of stiff opposition. It again imposed it in 2012 but recalled the same again.
The Finance Minister said the levy was a step towards implementation of GST and if luxury items were not taxed, "you can never reach 18 per cent (GST rate) cap."
Refuting the opposition charges of harrassment of jewellers by excise officials, Jaitley said, "if any excise
official or Khaki dressed men harrasses, any jeweller just needs to click a snap on their mobile and send it to me."
To ensure that there is no harrassment of jewellers, the government has, for the benefit of gold trade, provided for no physical verification, he said, adding the jewellers have been asked to pay excise duty with self certication on VAT returns.
To address their concerns, the government has even formed a committee, headed by former Chief Economic Advisor Ashok Lahiri, and three of the representatives of jewellers will be included in it. It is upto the jewellers to decided on their representatives as there are dozens of organisations, Jaitley said.
On registration of jewellers, he said so far 206 registrations have come and the deadline for it has been
extended till June 30 from March 31. Statistics show that consumption of gold is highest by those in the higher income group compared to those in the lower income group and thus the levy of excise duty would not affect small consumers.
The Finance Minister said that a peculiar aspect of gold trade is "the bigger the ban, the higher the smuggling". So government has allowed even small jewellers to import as the UPA government had allowed only 6-7 importers to do so.
The country has an appetite for gold and if custom duty of 10 per cent is increased then there will be smuggling, he said and added that only excise duty could be imposed on gold as service tax cannot be imposed.
"Domestic demand of gold is almost solely met by imports. During last three years, imports of gold were 625 MT, 1100 MT and 936 MT resulting in substantial outflow of precious foreign exchange," Jaitley said.
He added "gold attracts import duty of 10 per cent. Gold jewellery attracts 15 per cent import duty. However, India has signed FTA with many countries, wherein import of gold jewellery is allowed at nil preferential rate of import duty…this levy will result in 12.5 per cent CVD on imports of jewellery, checking these imports and providing additional protection to domestic industry."
He said the government is committed to even check the real estate and film industry which earlier was known for cash transactions but now white money transaction is taking place there.