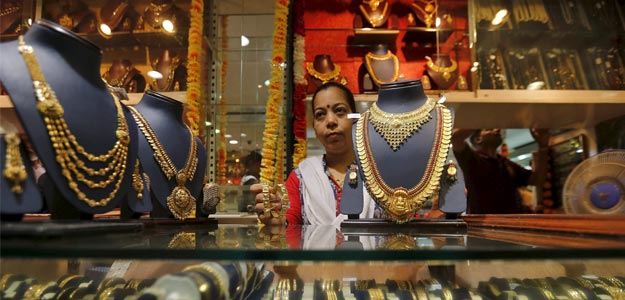 More than half of jewellers reopened their shops on Monday after keeping them closed for nearly six weeks in protest over the reintroduction of excise duty on gold jewellery.
The resumption in business could boost demand from the world's second biggest consumer and support global prices trading near their highest in three weeks.
"Jewellers are opening shops after government assured it will simplify implementation of excise duty," said Bachhraj Bamalwa, director at All India Gems and Jewellery Trade Federation.
"More than half of jewellery shops are now open."
Jewellers went on an indefinite strike at the start of March to protest against the proposed excise tax. The strike was later called off on assurances from the excise department that it would not "harass" jewellers.
Although the national level trade bodies of bullion dealers and jewellers called off the strike on March 19, various regional industry associations decided to maintain it.
But the government still refused to roll back the tax.
"We cannot continue to strike indefinitely. Already few artisans have committed suicide due to the business we lost," said Kumar Jain, a Mumbai-based jeweller.
Jewellery shops in Tamil Nadu, Kerala and Andhra Pradesh opened last month.
On Monday, jewellers from eastern Indian state West Bengal decided to start operations, said Harshad Ajmera, Organizer Secretary of Swarna Shilpa Bachao Committee.
DISCOUNTS DROP
Gold discounts over global prices are falling as jewellers are now replenishing inventory after opening shops.
Dealers were offering discounts of up to $25 an ounce to the global benchmark this week, down from $40 last week.
"Demand has been picking up due to festivals and the wedding season," said Daman Prakash Rathod, a director at MNC Bullion, a wholesaler in Chennai.
The strike, and higher prices, are estimated to have cut India's gold demand in the March quarter by about two-thirds from a year ago to its lowest in seven years.
"By end of this week nearly all jewellery shops will open," said a Mumbai-based dealer with a private bank.