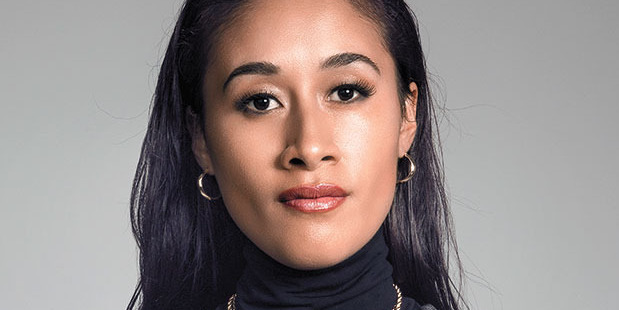 Maria Tutaia is striking in person. Standing 188cm tall, her lithe, Amazonian body is the colour of honey, and she has an elegant profile to rival Nefertiti. She is as striking off the court as she is on, playing netball for the Silver Ferns and the Northern Mystics.
She's a red carpet fixture and her current relationship with Wallabies fullback Israel Folau is the kind of tabloid fodder the social pages love: two good-looking, high-profile sports stars with an immense following, united. Tutaia handles the scrutiny unfazed.
"At the end of the day, all I can be is the best person that I can be for myself and for my family, and it doesn't matter how anyone else misconstrues anything when you're in the public eye," says the 29-year-old, adding, "I have a great support network around me."
Her confidence extends to her fashion choices and she is often seen in outfits that showcase her well-toned physique. Having studied fashion design at the Auckland University of Technology in her early 20s, Tutaia certainly has an eye for style and loves the transformative nature of fashion.
"I love experimenting and trying new things. I'm not into what's in and what's not, it's whatever I feel like wearing, really."
She's won two Commonwealth Games gold medals, and played her centennial match at last year's netball World Champs in Sydney (becoming just the fourth New Zealander to play 100 tests). Today she's come fresh-faced from a morning of training, and is heading off to another promotional shoot straight after.
She's also an author, with a new book, The Beginner's Guide To Netball, published on Monday. "The process was really special, working with some great people and pulling out old pictures from the attic. Sometimes you do forget the journey when your life gets full-on, so to be able to go back to that and reflect on how it all came about was special. The book is an opportunity to share my knowledge and encourage kids to set goals, keep active and stay passionate."
It is dedicated to her parents, who have been integral to Tutaia's approach to life. "My parents are extremely important. They're very different. My mother is very loud, a strong, typical Samoan woman; and my dad is the strong, silent type. So I guess when they come together they form this superhuman couple who've always inspired me with whatever I'm doing. My dad would always say to me, 'If it's meant to be, it's up to me', meaning it's up to you to get out there and chase your dreams."
Kate Sylvester slip dress $599. Silk & Steel silver lace ring $145.
Caroline Sills shirt $269. Karen Walker wide-leg pants $655. Pearl drop earrings, $129, and Michael Kors watch, $399, both from Stewart Dawsons. 9ct gold rope chain, $259, from Pascoes. Jessica Aggrey 18ct gold-plated stackers rings (set of seven) $115. Silk & Steel eternity ring $159 and gold lace ring $155. Karen Walker studded ring $749.Paula Ryan skivvy $225. Kate Sylvester coat $1099. 9ct gold hoop earrings, $999 and 9ct gold rope chain $259, from Pasoces. Jessica Aggrey green quartz pendant $289.Caroline Sills cashmere wrap $449. Karen Walker wide-leg pants $655. Silk & Steel earrings $155 and eternity ring, $159. 9ct gold rope chain, $259, from Pascoes. Jessica Aggrey gold-plated pendant $149 and 18ct gold-plated stackers rings (set of seven) $115. Karen Walker 14mm smoky quartz cocktail ring $1329.Helen Cherry wool cashmere coat $898.