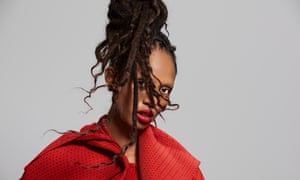 A study in scarlet: bright red lips
The perfect base begins with a great, non-oily hydrator. Chanel's Camellia Water Cream is light but incredibly effective. I used a mix of foundations, but I didn't apply it everywhere – just apply it where you need it. For an even, refined finish use a brush. A dot of liquid highlighter blended on the cheekbones with a brush gives a beautiful glow. I applied concealer – using my finger – under the eyes, around the nose and mouth. I love Becca's as it is not too oily. Blend out with a concealer brush. I finish off with a dusting of powder, but only apply on the T-zone so the skin still glows. To create this look, apply black liquid eyeliner across the crease of the eyelid. Extend it out further than normal for a point of difference. Apply mascara – looking down on a mirror results in fewer smudges – only on top lashes for a more natural finish. Blot between your lipstick applications – two or three should be sufficient – to intensify the colour.
For skin prep try: Becca Aqua Luminous Concealer, £21; NARS Radiant Longwear Foundation, £31.50; Fenty Pro Filt'r Instant Retouch Concealer, £19; Becca Shimmering Skin Perfector, £30; Crème de la Mer Loose Powder, £75; Real Techniques Brushes, £19. For the makeup try: L'Oréal Super Liner in Black Lacquer, £6.99; Chanel Les Beiges Healthy Eau de Teint Water-Fresh Tint Light Deep, £48; Bobbi Brown Blusher in Rose, £20; Chanel Rouge Coco Flash 60 – Beat, £31; and Stila Huge Mascara, £12.75
The eyes have it: mellow yellow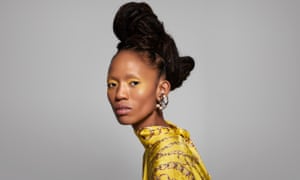 To achieve an intense pigment around the eyes, it's best to start without a brush. Dip your finger into the colour – it should be dry not wet – and press firmly into the skin all around the eyes. The pigment at the top of the lid should be the strongest. Then take an eyeshadow brush and feather out the colour in a circular motion. This gives a watercolour effect. Do this until it blends into the surrounding skin. Apply a subtle blush. Choose a soft, less intense hue so it doesn't clash with the pigment on the eye.
Try: Huda Beauty Nude Love Lipstick in Sugar Mama, £18; Chanel Ombre Première Gloss Eyeshadow 067 – Solaire, £28; Mac Blush in Raizin, £19.50; Chanel Ombre Première Longwear Powder Eyeshadow 34 – Poudre D'Or, £26
Green flash: emerald effect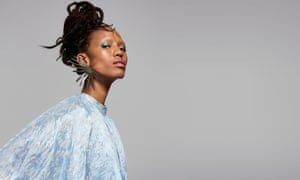 Take a medium-sized brush and wet it (but don't soak it). Swirl it across the eyeshadow until you get a paint-like consistency. A lip brush that isn't too stubby is ideal – Real Technique's are some of my favourites. Regardless of how carefully you apply, this colour will get on the base of your lashes – that is unavoidable. The way around it is to take a liquid eyeliner and apply it across the root of your lashes. This will hide any mistakes and give a professional finish.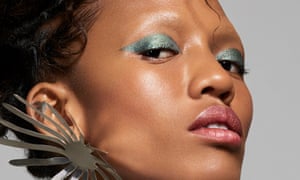 Try: Kat von D Ultra Ink Liner, £17; Chanel Ombre Première Longwear Cream Eyeshadow 824 – Verderame, £26; Hourglass Ambient Lighting Bronzer, Harrods, £48; Chanel Rouge Coco Flash 72 – Rush, £31
Winning streak: red lines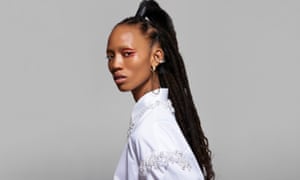 Mix a rich powder eyeshadow with water to create a paste, or use a liquid high-intensity pigment – Make Up For Ever is brilliant. Dip the brush in the paste and simply paint on the shape you want. A medium-sized lip brush is a good way to achieve this, however you can adapt the brush size if you prefer thicker (or thinner) lines. I did an extra lip prep before applying the lipstick. Nuxe balm is great as it hydrates, but is matt so it doesn't add grease to the texture.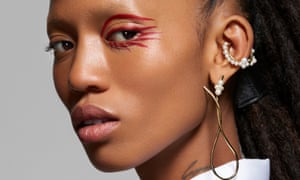 Try: Le Volume Révolution de Chanel 10 – Noir, £28; Make Up For Ever Chromatic Mix in Red, £12; Bioderma Sensibio H20 Makeup Removing Solution, £10; Chanel Le Rouge Crayon de Couleur Mat 259 – Provocation, £31; Nuxe Reve de Miel Lip Balm, £10.50
True colours: rainbow eyes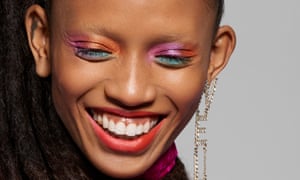 This is an opportunity to play and experiment. I applied the principle of a colouring book by taking colours and placing them, very specifically, wherever I wanted, making sure I didn't layer colours over each other – otherwise you lose the boundaries between shades. I used my fingertips to keep it looking unpolished. Where I wanted more detail – the green on the lower lash line, for instance – I used a thin brush for precision. I used light-reflecting pigments for this. The shimmer is important – anything too flat will look theatrical. You can use as many colours as your eyes will allow, but best to keep to four or five.
Try: Anastasia Beverly Hills Riviera Palette, £46; Chanel Les 4 Ombres Multi-Effect Quadra Eyeshadow 228 – Tissé Cambon and 306 – Splendeur Et Audace, £44; Fenty Beauty Moroccan Spice Palette, £54; Chanel Rouge Allure Liquid Powder 962 – Electric Blossom, £31
["source=theguardian"]