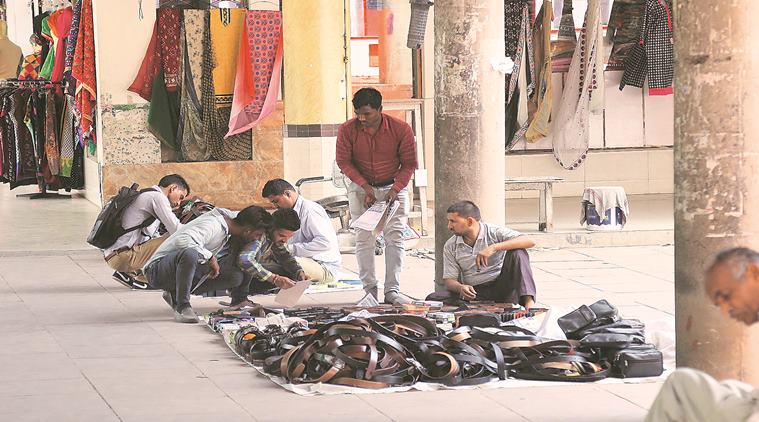 Vendors at Sector 17 Plaza in Chandigarh. (Photo Jaipal Singh)
Soon, Sectors 17, 19 and 22, which are known hubs for street vendors, would become no vending zones, according to the office of the chief architect. Also, sectors 1 to 6, where the top brass of Chandigarh, Punjab and Haryana stay and which include the famous tourist spots, Sukhna Lake and Rock Garden, have also been recommended as no vending zones.
This was told by Chief Architect Kapil Setia at a meeting of senior officers, including UT Administrator V P Singh Badnore, UT Adviser Parimal Rai and Home Secretary Anurag Aggarwal. The chief architect also informed officials that as many as 58 sites across the city have been identified as vending zones where street vendors would be allowed to ply their wares.
Confirming the development, Additional Commissioner of the Municipal Corporation, Uma Shankar Gupta, said they would now conduct a joint inspection to check the final feasibility before issuing license. "Both officials from MC and the chief architect's office would visit each of the sites. The no vending zones have been earmarked keeping in mind the heritage," Gupta told the Chandigarh Newsline.
The 58 vending zones include sectors 7, 8, 9, 10, 11, 23, 36, 38, 54, 46. The engineering wing would also assist the MC and the office of the chief architect.
The survey began in July 2016 under Street Vendors (Protection of Livelihood and Regulation of Street Vending) Act, 2014, with the aim of registering and rehabilitating street vendors so that they are not exploited. It also calls for proper rationing of urban streets and spaces. Until the survey was being conducted, the MC announced that it would not displace any street vendor because of which vendors came up at Sector 17 plaza as well.
The vendors will have to pay Rs 2,000 per month as vending fee for non-essential service providers, whereas essential service providers like tea stall, barber, cycle repair shops have to pay Rs 1,500 per month as vending fee. However, due to a delay in making the vending zones, licences could not be given.
The agency, Haryana Nav Yuvak Kala Sangam, which conducted the survey, had identified 21,621 vendors under the Street Vendors Act, 2014. The MC had proposed two categories of vendors – service providers and non-service providers. The vendors' fees were also proposed to vary area-wise and the type of service they
provided.
["Source-ndtv"]