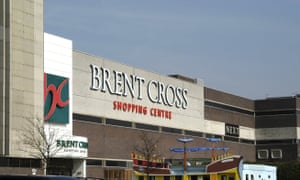 Five men have been arrested after police responded to a smash-and-grab jewellery raid at Brent Cross shopping centre in north London.
Officers were called to the raid at about 2.30am on Wednesday and later found sledgehammers and pick axes.
Scotland Yard said at least a dozen suspects had smashed windows and stolen items from Goldsmiths jewellers as well as attempting to steal from Ernest Jones jewellers.
The suspects escaped on foot and bicycles and the area was searched by officers with the support of police dogs and a helicopter.
Five men in their 20s and 30s have been arrested on suspicion of robbery and taken to a north London police station, where they remain in custody.
Some jewellery and watches were recovered, as well weapons, but the Metropolitan police are still looking for the remaining suspects and property.
Insp Fifi Gulam-Husen said: "The public should be reassured that Met officers respond rapidly around the clock to tackle crime across London.
"This morning's arrests demonstrate our determination to act with speed, intelligence and tenacity to catch criminals and to keep Londoners safe."