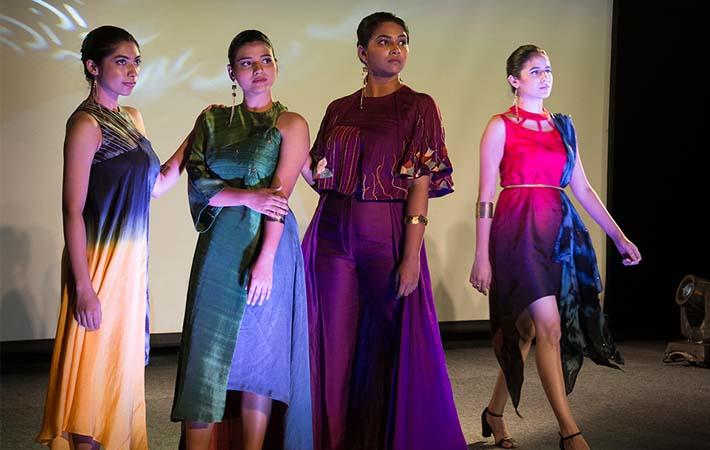 'Born from Cotton' apparel show organised by the National Institute of Design (NID) focused on display of human stories through movements and music. Students of NID based in Gandhinagar, showcased their creative designs at the innovative show for apparels. 'Born from Cotton' project is an integral part of an academic classroom design project at NID.
NID as part of its curriculum provides opportunities to its students to explore diverse, real-life situations by collaborating with professional bodies and mutually supporting live classroom projects. Such an approach prepares the students to understand and deal with various scenarios which nurtures them for a variety of professional experiences in future design career.
At the fashion event, as many as 13 master students of design and apparel design of NID developed a collection of quality apparels suitable for local and global high-fashion markets understanding the fluidity, drapeability, silky touch, breathability comfort and eco friendliness properties of the cupro fibre and fabrics. Over 15 undergraduate students of NID's textile design displayed their creation of printed textiles and surfaces with a focus on various dyeing and printing techniques on Asahi Bemberg fabrics. The collections at the fashion event explored varieties of luxurious Asahi Bemberg fabrics which are produced in Surat by using Asahi Bemberg yarn which is only manufactured by Asahi Kasei in Japan.
The show that concluded recently was sponsored by Asahi Kasei and witnessed participation of around 300 people from various areas of textile industry like designers, weavers and academicians. Asahi Kasei is a Japanese group with businesses in various fields and mostly in niche segments. In textiles, their four main products are are Asahi Bemberg, the unique cellulosic fabric born from cotton (yarn is Cuproammonium rayon); Roica premium stretch fiber; Bemliese, nonwovens including spunbond for growing hygienic applications; and Leona nylon 66 filaments for automotive applications. (RR)
["Source-fibre2fashion"]