When a piece of jewellery's displayed in a shop, surrounded by hundreds of other designs all dazzling you at the same time, it can be hard to pick out the right thing. Take that process online and on the best websites, you're presented with a curated selection of pieces tailored to your budget and style preferences – all in a few clicks.
We've scoured the web to find the best collections on easy-to-use websites that make it that bit simpler to pick up a unique design that you won't see everyone else wearing. Not all are online only, but we think we've come up with a really e-shopper-friendly selection; from London-based fine jewellery specialists Astley Clarke's website to Scandi hipsters & Other Stories' online offering.
1. Net-a-Porter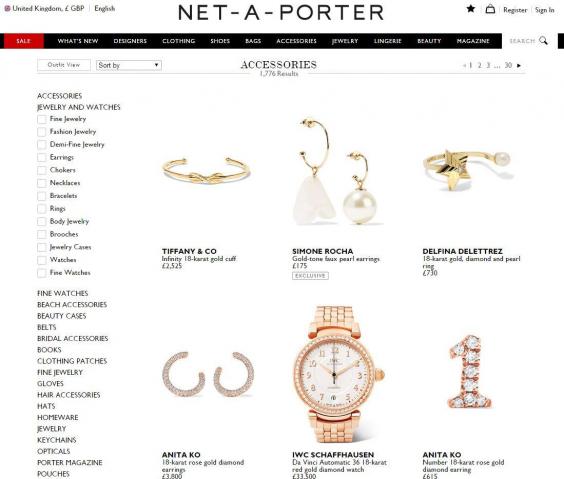 The leading retailer in the world of designer clothing, Net-a-Porter also have a fantastic range of jewellery on offer. As with its womenswear, the site's section focuses on a carefully selected range of brands to offer only the best to its discerning customers. We love the fact that the jewellery is broken down into sections for Fine, Fashion and Demi-Fine as well as by type and designer. Though this site does specialise in high-end trinkets the prices vary enormously between £20-£37,000 so there really is something for everyone.
2. Daisy London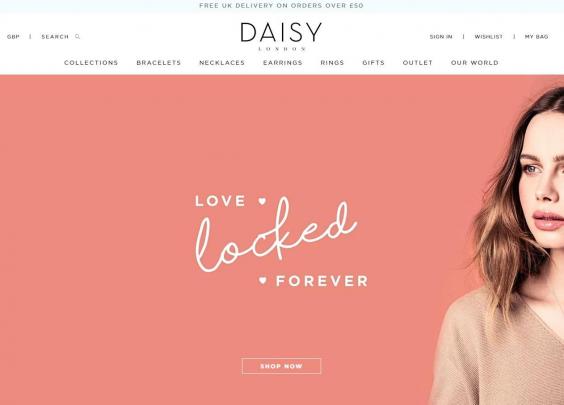 Born out of a love for the beautiful and the exotic, Daisy is best known for its iconic Chakra collection which has paved the way for wellness focused jewellery. Balancing aesthetic and spirituality, each Charkra is represented by a different symbol and denotes an inherent meaning. Covering everything from necklaces to bracelets and earrings to rings, Daisy has quickly become a firm favourite among celebs. – think Cara Delevingne, Ellie Goulding and Rita Ora. If you're looking for something that's more than just an accessory, this is the place to look.
3. Astley Clarke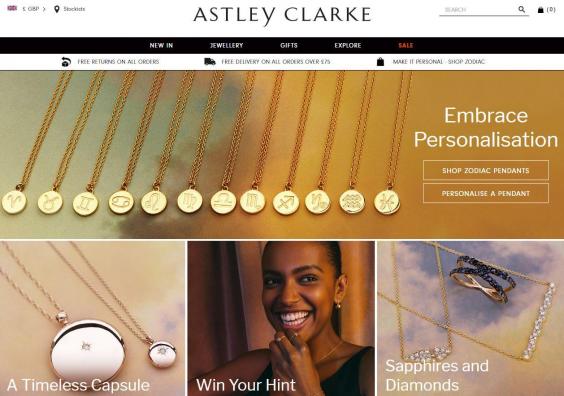 London-based Astley Clarke design all their own collections in the studio above their boutique in a mews street near Paddington. They also work with international guest designers who sell both collaborations with the fine jewellers and their own ranges through the site. Don't be deterred by the word "fine"; prices online range hugely from £30-£20,000, so if your budget's at the lower end, it's worth searching by price. This site's not as all-singing as some out there, but there are some good features. We particularly like the 'Drop a Hint' feature which lets you e-mail links of products you're lusting after; perfect for when you know exactly what you'd like to receive on your birthday.
4. & Other Stories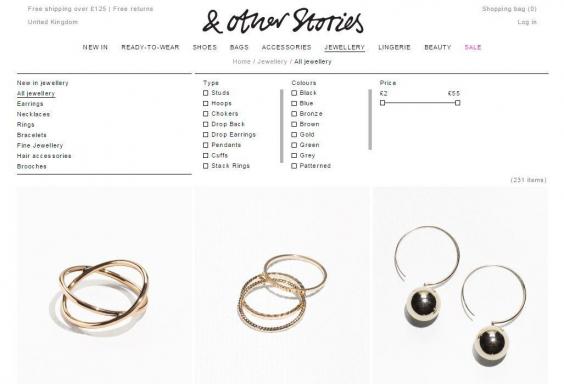 A high-street favourite, & Other Stories is a cooler, higher-end offering from the H&M stable, that still won't break the bank. The paired down, Scandi-chic aesthetic extends to its jewellery designs. There are subtly cool studs, rings, bracelets and pendants, as well as standout statement pieces, all with just the right amount of edge. The pieces won't be made of precious metals or with gem stones, but in them you'll stand out from the crowd, in an understated way. Prices start from less than £10 and most pieces are under £60. The site enables you to search by type, colour and price and the purse-friendly, extensive collection makes it a worthy addition to the list.
5. Browns Fashion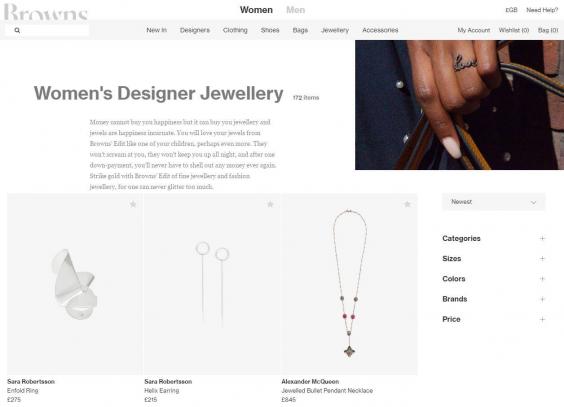 For fine jewellery that's a little bit different, Browns Fashion is a sure bet. Established in 1970, the shop's known for their meticulously curated clothes and accessories collections from the designers of the moment. The jewellery's aimed at their clientele who think nothing of spending a few thousand on a dress, so expect some eye-watering prices. Even if you're just making a wish-list, the search function works very well – narrow down choices by designer, colour, jewellery type and price.
Verdict:
We think Net-a-Porter's hard to beat when it comes to their extensive range of products, across all prices and from all corners of the globe. However, for something that's super affordable and truly unique we love Daisy London – especially for its spiritual yet equally as stylish Chakra collection.
[Source:- independent]