1. Atlantic-Pacific
Atlantic-Pacific's creator, Blair Eadie can be considered a real fashion influencer. She started as a Gap Inc merchandiser 11 years ago and has been part of the fashion world ever since. She has built up a substantial social media following, including over 1.1 million Instagram followers.
Blair recognized how street style was shaping fashion and created Atlantic-Pacific in 2010 to help develop the conversation. Since then she has noticed the industry reshape from the inside out.
She has worked as an influencer with many brands, including CoverGirl, Gucci, Nordstrom, Target, Tory Burch, Sephora, and many more. She has also collaborated on global campaigns with luxury brands such as Vogue, Elle, Harper's Bazaar, Who What Wear, Refinery 29, Style Watch, and more.
She has ensured that Atlantic-Pacific is a highly visual platform, showcasing eye-catching fashion.
2. Chronicles of Her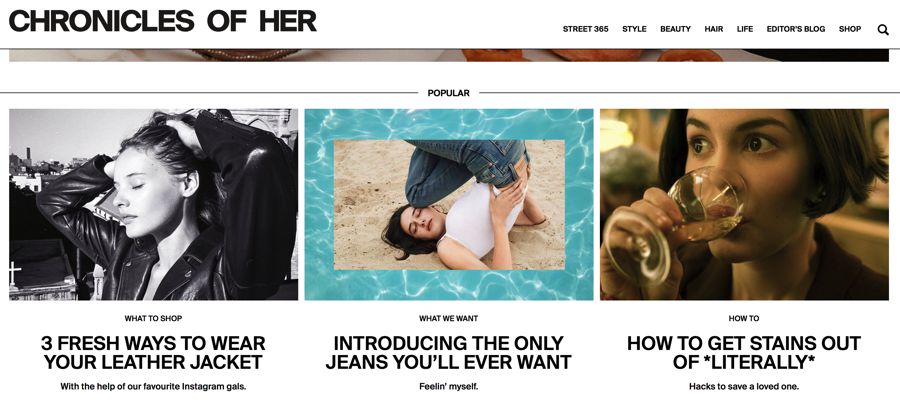 Australian style expert, Carmen Hamilton, created the Chronicles of Her blog in 2011. It aims to be a daily destination about real style and life. Carmen curates the bog, aided by a team of other fashion identities.
It features many of the coolest women from around the world, showcasing the outfits they wear on a daily basis.
The Chronicles of Her also aims to educate, teaching fashion and beauty tricks to the blog's followers.
Some of their most popular articles of all time are:
How To: Fake Flawless Skin in 4 Steps
9 Timeless Pieces Every Woman Needs
French Girl Style – The Ultimate Shopping Guide
How To: Carmen's Textured Hair (Video)
How To: White Shirt Styling 101 (1 Shirt, 5 Ways)
3. The Daileigh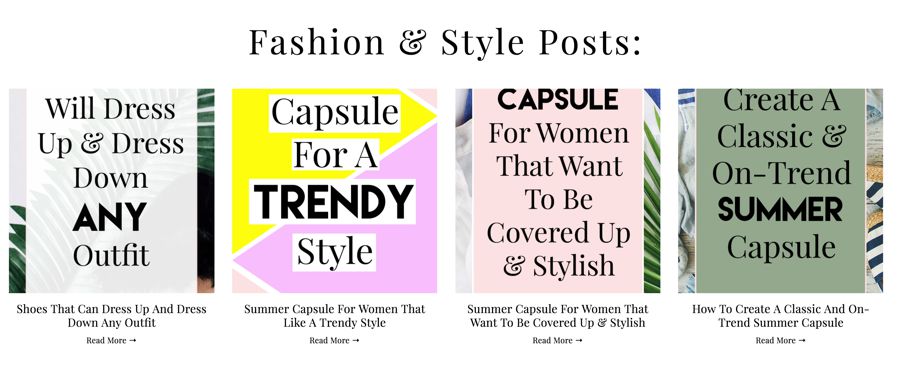 The Daileigh's Ashleigh Hutchinson offers articles and courses to help her readers build the perfect closet. She aims to help women aged 20-70 to create a style they love. Ashleigh includes quite a few fashion eBooks on her site, as well as blog posts and beautiful fashion photography. She even holds online webinars to help people improve their fashion sense.
The Daileigh is very much Ashleigh's per project. She stresses that she built the site herself, without a team. She does acknowledge the support of her family and friends, however.
Many of her posts are "How Tos," often adapted to suit a particular subsection of her audience. For instance, she has written three distinct posts:
How To Wear Shorts In Your 40's
How To Wear Shorts In Your 50's
How To Wear Shorts In Your 60's
She has also written core articles such as:
Wardrobe Essentials
How to Build a Classic Wardrobe
How to Wear Your Clothes in Different Seasons
4. Egg Canvas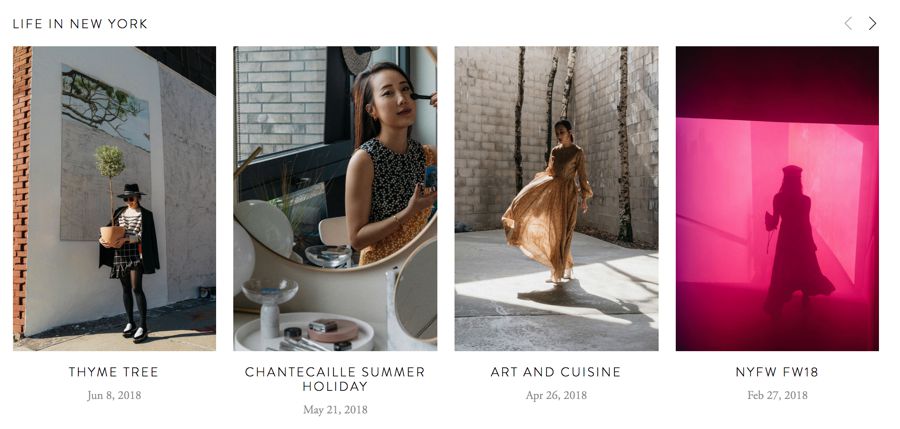 Egg Canvas is the visual journal of NYC-based design director and photographer, Erica Choi. It focuses on fashion, beauty, travel, and lifestyle.
Erica gained inspiration for the blog's name from her childhood nickname that implied her face shape resembled that of an egg. She sees the words 'egg' and 'canvas' as working together to represent creating life as a blank canvas.
As with many of the blogs, the posts on Egg Canvas are predominantly visual – with the main text being the occasional photo caption supplemented with a few paragraphs of explanation where necessary.
The blog also includes a sizeable section showcasing the latest New York Fashion Week.
5. The Fashion Guitar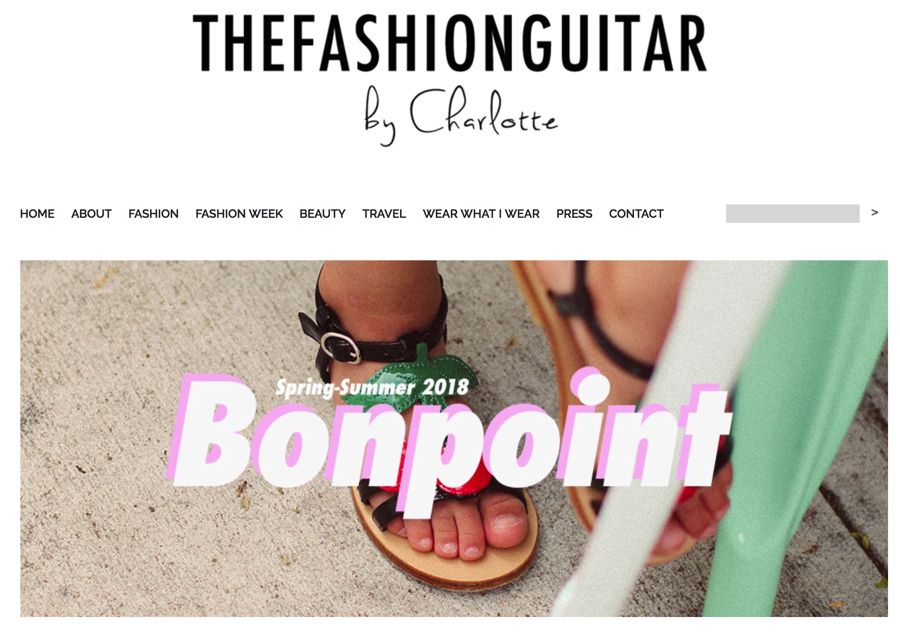 The Fashion Guitar is the online home of Dutch-born Charlotte Groeneveld-Van Haren. Charlotte is now a New York-based mother of two.
Charlotte had worked with several fashion blogs in a former job, so decided that she would like to create one herself. With the arrival of her children, she also started to cater to mothers and mothers-to-be.
Charlotte loves the opportunity to work with her favorite brands and designers – but she only collaborates if she feels a genuine connection.
The Fashion Guitar splits its posts into:
Brand Collaborations
Beauty
Editorial Shoots
Fashion Week
Inspiration
Mamma Fashion
Outfit
Travel
5 Days 5 Ways
6. Girl With Curves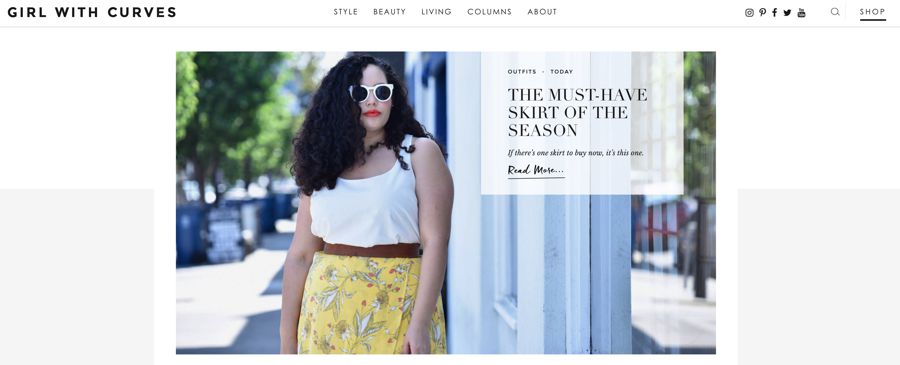 Although the stereotypical fashion image is of an ultra-thin model showcasing the latest clothing designs, the reality is somewhat different. Few of us have the ultra-slim profile. Many people carry a few extra pounds and struggle to imagine themselves wearing what you typically see on the catwalk.
Girl With Curves targets everyday people, who don't fit the traditional model's profile. It describes itself as being "a multimedia, award-winning platform made possible by people who believe women deserve to look and feel beautiful, regardless of weight, shape or size."
It was created by Tanesha Awasthi who has now become one of the world's favorite plus-sized fashion bloggers. She tries to help "real women" solve their fashion problems, along with the other areas they struggle with like self-esteem, body, image, and motherhood.
The blog includes trends, style tips, beauty advice, parenting, and wellness – all with its plus-sized audience in mind.
7. Harper & Harley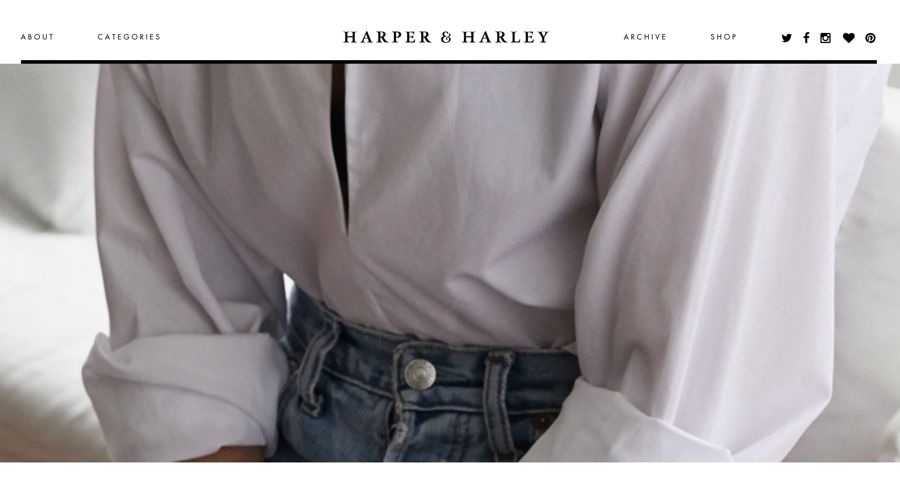 Australian Sara Crampton (nee Donaldson) presents the Harper & Harley blog – ideal for those with minimalist tastes who love black, white and gray. Sara has run her blog since 2008. It follows the 'less is more' philosophy.
Sara starred on the reality show Fashion Blogger and has worked with global brands such as Estée Lauder, Jaguar, Dyson, Loreal, YSL Beauté, Uniqlo, Gucci, and Nike.
8. Hello Fashion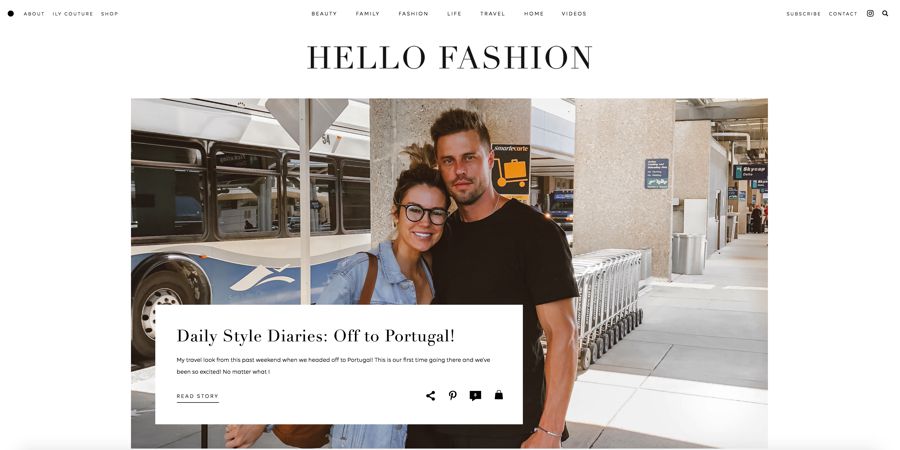 Hello Fashion, by Christine Andrew, features a range of posts covering beauty, family, life, travel, and of course, fashion. Christine comes from Bogota, Colombia and is half Colombian, half American.
She has been blogging since December 2011, initially sharing her favorite sales, buys, and fashion finds. She currently blogs from Salt Lake City. She has sold her own clothing line, ILY COUTURE since 2011.
Christine knows much about dressing well, having appeared on the Vanity Fair Best-Dressed List.
9. Kyrzayda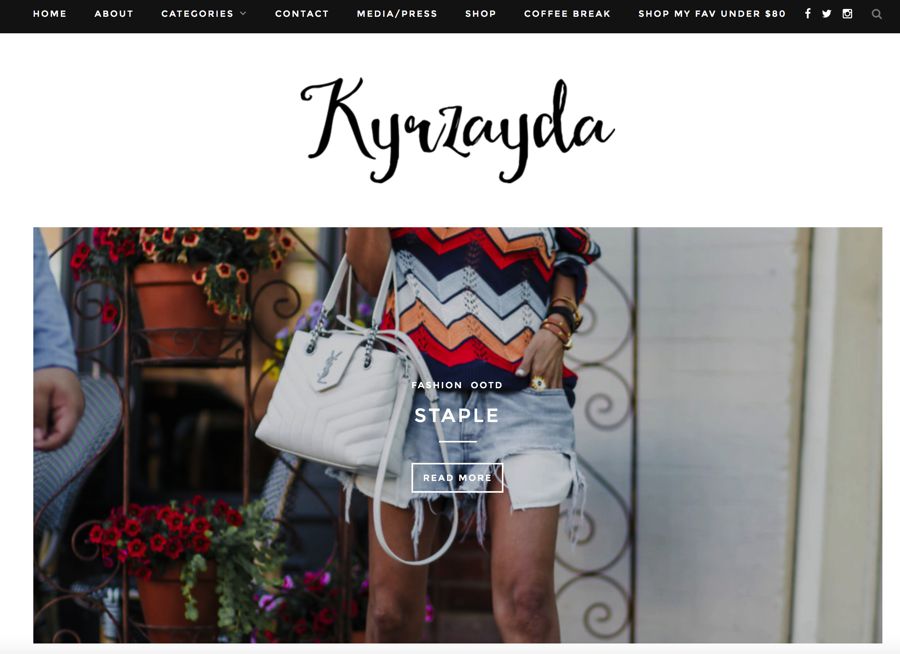 Kyrzayda Rodriguez has created a self-titled blog showcasing her passion for style and creating beautiful content. Although she created the blog in 2013, it took a year to take off. In 2016 Kyrzayda began blogging fulltime.
Many of her posts are highly visual – showcasing the same types of images usually shared on Instagram. This is particularly relevant in her OOTD (Outfit of the Day) category. She shares luscious photos of her day, detailing everything she wears. Kyrzayda provides links to where you can buy what you like. Her followers apparently like to share her OOTD. There are always plenty of comments from her fans giving her opinion on the outfits.
Kyrzayda also operates a shop from her blog, which links to the appropriately named kyrscloset.com.
Like many of her fellow fashion bloggers, Kyrzayda covers more than just fashion. She also includes posts on other topics her fans show an interest in – fitness, beauty, lifestyle, and travel.
10. Lust for Life
Olivia Lopez launched fashion and lifestyle blog, Lust for Life, in 2006. Its tagline states that it is "a design destination for the culturally curious and epicurious."
Olivia has built up a reputation as an influencer and been featured on Barneys, Teen Vogue, and Elle.
Unsurprisingly, all of the posts are lavishly illustrated, and Olivia has a robust Instagram presence.
11. My Fash Diary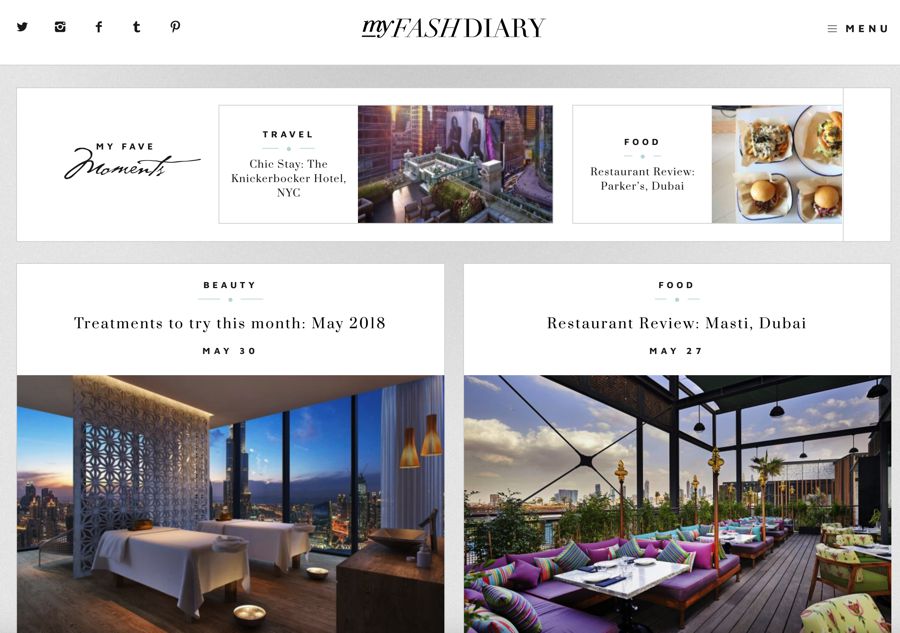 My Fash Diary describes itself as a "style diary."  It considers fashion to be what others decide is in, while style is what you believe is in.
The blog's editor is Chicago-born, Dubai-based Tala Samman who is of Syrian-heritage. Although the blog's name indicates the importance of its fashion section, there are posts on beauty, food, and travel, as well as fashion.
The blog has gained international recognition, and has been nominated for Ahlan! Magazine's Best at the Dubai awards, Marie Claire, UK Blog, and Twitter awards.
Tala has also been recognized in prestigious publications The Guardian, Grazia UK, Grazia Middle East, Harper's Bazaar Arabia, and Marie Claire Middle East.
12. One Dapper Street
Our first blog to focus on male fashion is One Dapper Street. This blog is the online home of Marcel Floruss – "a German dude who loves fashion and all that goes with it." Fashion is clearly Marcel's passion, and it has brought him from Germany to New York City.
Marcus went to fashion school in New York and modeled before turning his hand to blogging.
He also loves shopping and photography, so he combined his passions to create One Dapper Street.
The site contains a range of highly visual articles on a variety of style and lifestyle topics.
13. Style Me Grasie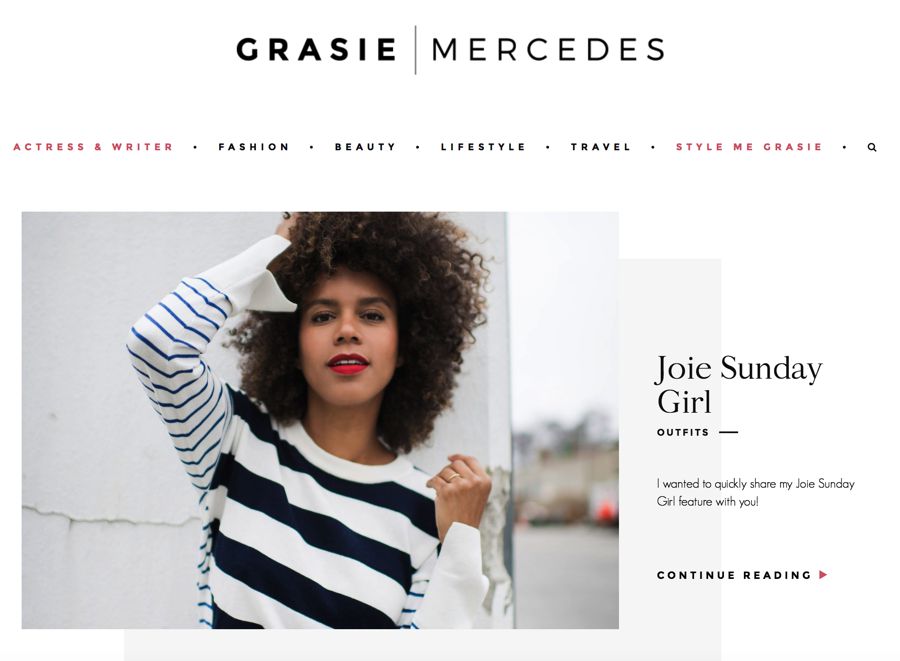 Style Me Grasie is another blog that, although fashion focused, has widened its topics to include other subjects loved by its typical fan – posts on issues such as beauty, travel, and home inspiration interspersed with fashion features.
This blog is the online home of actress and writer, Grasie Mercedes, currently based in Los Angeles. She is Dominican by birth. She actually has four names, but she is best known by her grade school nickname, Grasie.
As with most of these blogs, her posts feature luscious photography, focussing on people wearing the latest "in" fashion.
A significant section of the blog is "Outfits," and this predominantly features what Grasie wears in her daily activities. The posts are highly visual, with captions describing the outfits worn, often explaining why Grasie likes and wears particular items. She generally includes links to sites where her fans can buy items to emulate her look, often giving alternatives in various price ranges.
14. What My Boyfriend Wore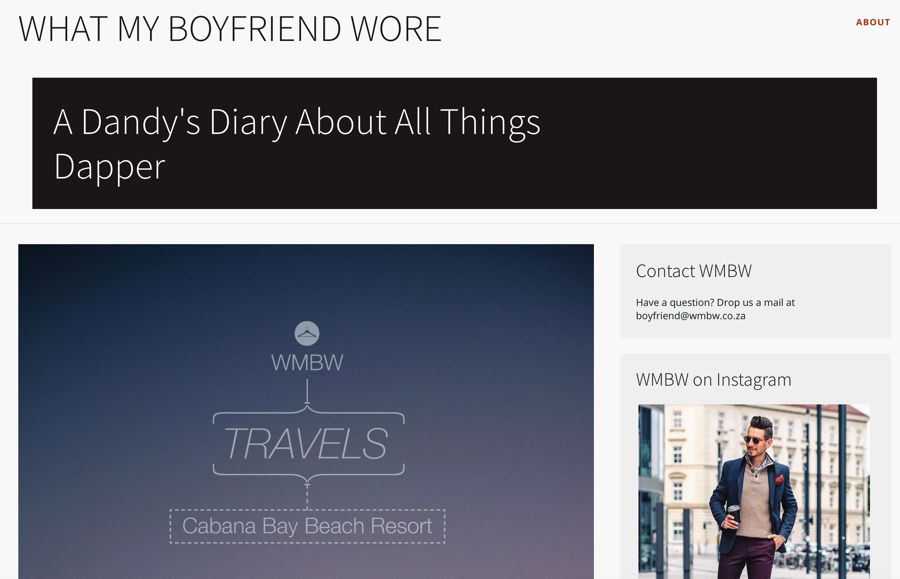 Unlike the majority of fashion blogs on this list, What My Boyfriend Wore focuses on menswear. Its tagline is "A Dandy's Diary About All Things Dapper."
The blog came about because the former girlfriend of South African blogger Sergio Ines liked documenting his outfits and started posting them on Instagram.
The blog now focuses on fashion and styling for normal men.
It covers many aspects of men's fashion, from Menswear 101 to Outfit of the Day to Dressiquette. For instance, there are fascinating articles entitled "Braces or Belt, Never Both," "Match Leather to Leather and Metal to Metal," and "Dressiquette – Your socks should match your pants." (Although your socks should match your pants, not your shoes, Sergio believes you only need to worry about this in formal situations – he prefers high-contrast brightly colored socks).
15. Wide Eyed Legless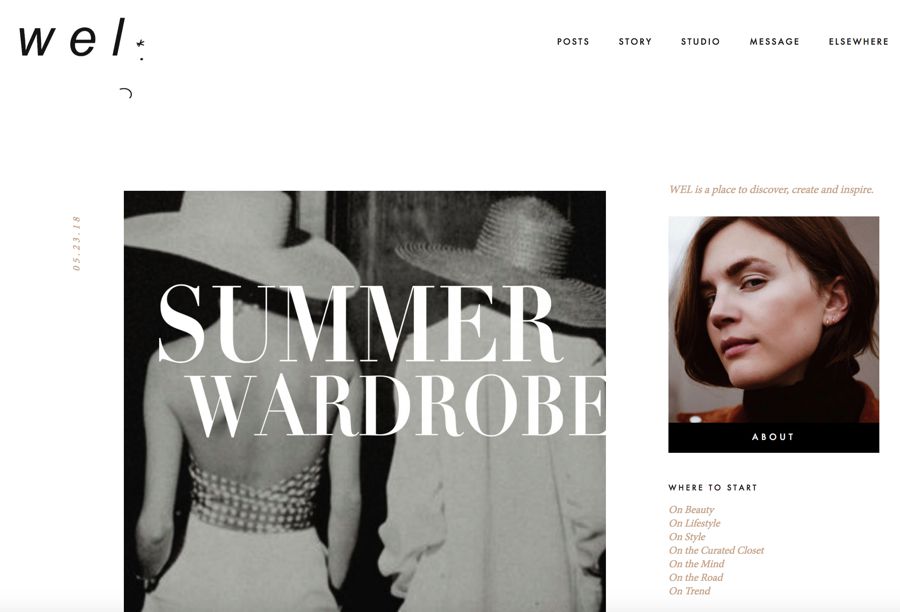 Madelynn Furlong designed Wide Eyed Legless to be a blog that celebrates minimalist style, aimed at the modern woman. She sees her site as being a place to discover, create, and inspire.
She began Wide Eyed Legless in 2010 to help her readers build a simpler, more thoughtful wardrobe, home, and lifestyle.
16. We Wore What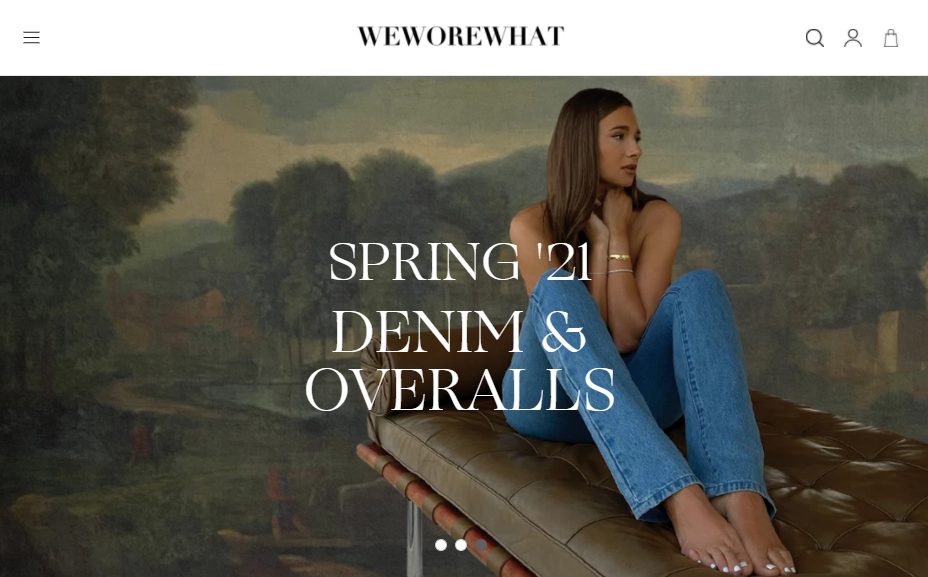 We Wore What's been around since 2016. And it's grown into more than a full-fledged blog. Founder, Danielle Bernstein, started out as a fashion blogger. She's since transformed her blog into an online store, and in the process became an author, writing New York Times bestseller This Is Not a Fashion Story.
We Wore What is a fashion blog first, and your connection to daily outfit inspiration. It's also evolved to cover other equally important topics because as much as fashion is a large and dominant force in the world, beauty, wellness, and travel and are perfect complements.
If you're looking to strike a balance between effortless daily wear and healthy living, pop over to We Wore What.
17. In the Frow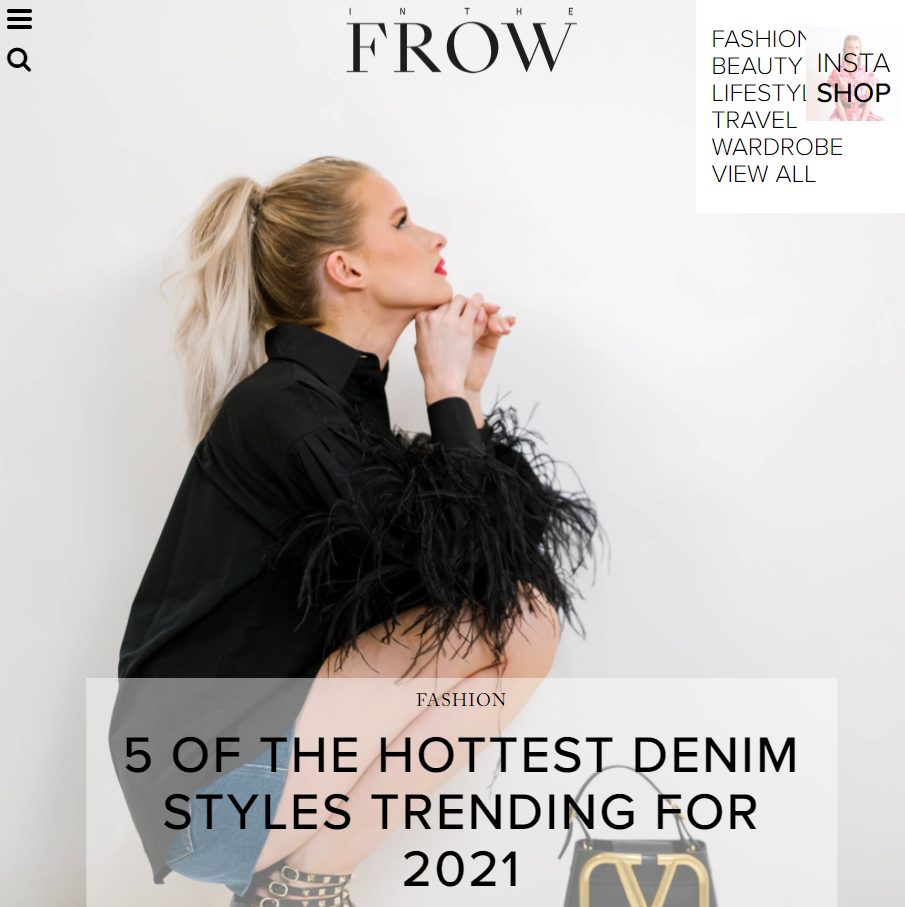 In the Frow is one of the most established fashion blogs around today. Launched in 2012 by then Fashion Ph.D. candidate and Fashion Marketing Lecturer, Victoria Magrath, it quickly wowed the world. She's been named Glamour's Woman of the Year in 2016 and 2017, and walked away with the Best UK fashion Blog for 2018 in the Vuelio Blog Awards.
Victoria's fame has seen her represent global brands, too. She's worked with Bvlgari, Dyson Hair, Vestiaire Collective, Lumene, St Tropezand, and Armani Beauty. But that's not all that In The Frow is about. Victoria's spread her wings and launched a sustainable silver jewelry label called Edge of Ember.
If you're looking for some of the finest advice on what to wear and how to style your closet and makeup, visit In The Frow.
18. Glamazon Diaries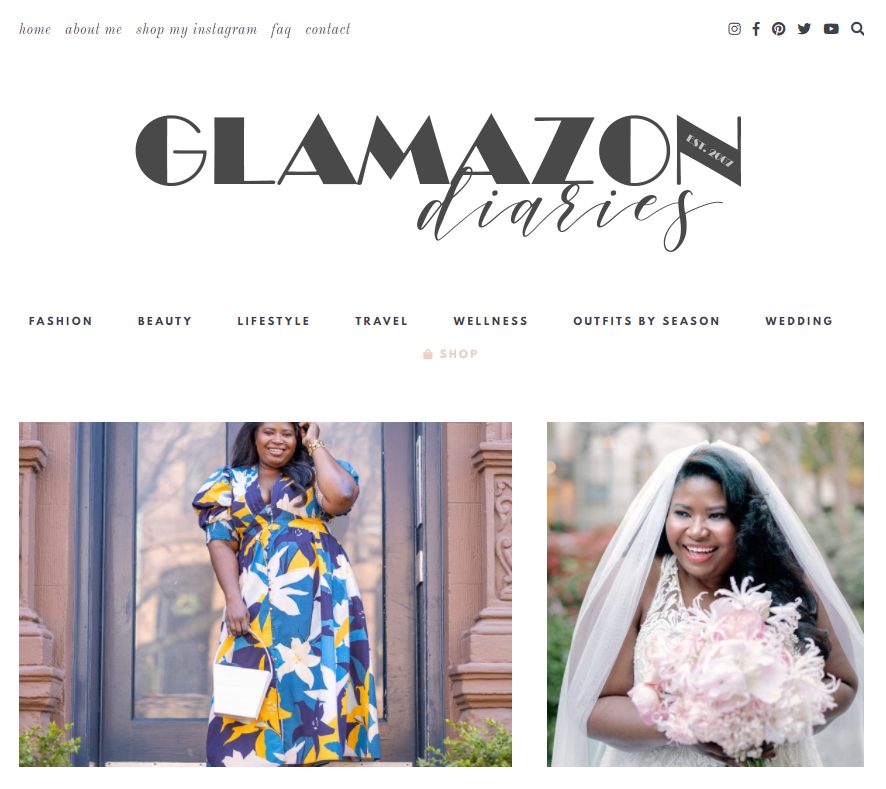 Glamazon Diaries is the perfect blend of fashion, beauty, lifestyle, travel, wellness, and wedding advice. It's packed with well-thought commentary in bite-size pieces making for easy reading. Glamazon Diaries was created in 2007 by Makeda Saggau-Sackey. As an influencer in the body positive movement, she's committed to making women of all shapes and sizes feel confident in their skin, and do so on a budget.
Makeda's take on fashion is a very personal one. You'll find tons of great takes on trends and seasons, and what she's wearing. And if you see something you absolutely must have on her blog, there's a good chance that you'll be able to steal the look. Most of her blog posts, if not all, include links to an Instagram shop.
19. Fashion Steele NYC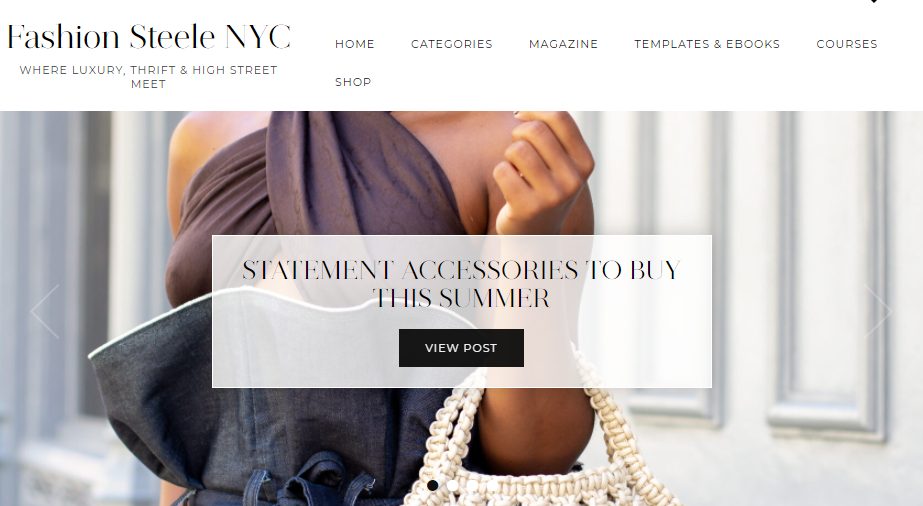 Back in 2010, then Ph.D. Physical Therapy graduate, Monroe Steel, needed an outlet. She was brimming with ideas and a love for fashion, and it didn't take long for her to capitalize on both. Since then, Monroe's seen blogging as a vehicle that must explore as broad a spectrum as possible. From the best thrift buys to look out for to high-end events like New York, Paris, and Milan Fashion week, you'll find all the inspiration to look your best.
Fashion Steele NYC also explores travel, beauty, lifestyle, and events. This makes it a smart accompaniment for what to do, see, and keep up with weekly.
20. Mia Mia Mine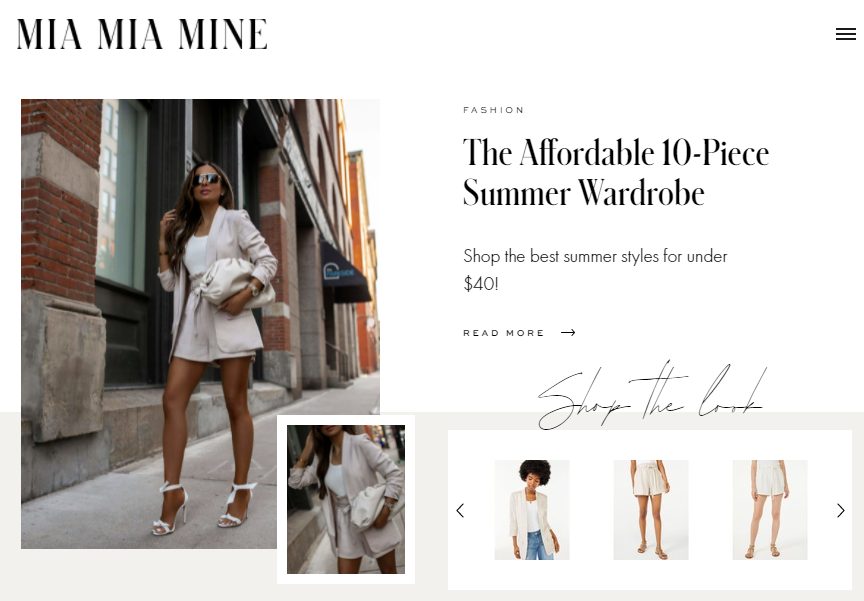 Maria Vizuete is a former stock analyst turned fashion blogger. Like other top bloggers on our list, her transition was the best decision she's made. And looking at her work, you'll never guess that she was once in finance. Since 2012, Mia Mia Mine has been about practical advice for the working woman who wants to look her best. She covers the best investment pieces to commit to and how to pair them with the right everyday fashion.
Like many savvy fashion bloggers, Maria's expanded her scope to other niches. Today, a visit to Mia Mia Mine will get you home decor, marriage, fitness, travel, and blogging tips.
["source=influencermarketinghub"]