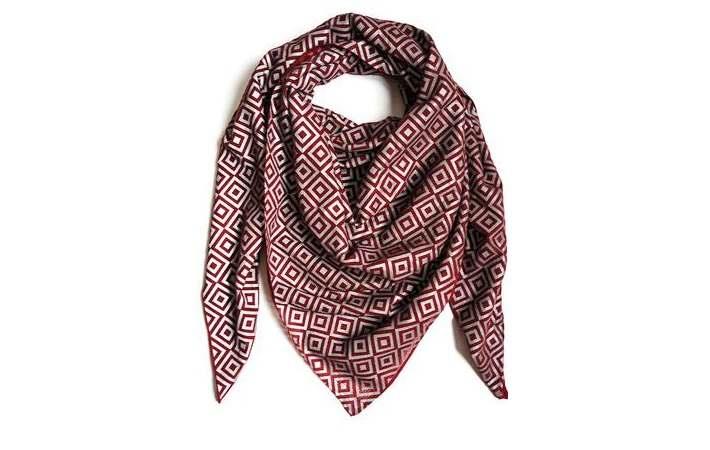 Much to the delight of celebrities chased by privacy stealing paparazzi, there now is a new fashion accessory that renders the person invisible to the camera and makes them photo-proof.
A Dutch man of Indian origin Saif Siddiqui has invented an invisible scarf, called ISHU, which blackens the photo of a person wearing it when clicked with a flash. He is also designing a range of accessories such as anti-flash ties and pocket squares to give invisibility and privacy a different dimension altogether.
The wonder material that ISHU is made up of comprises millions of spherical nano-crystals which neutralize the flashlight of cameras be it in the mobile phones or sophisticated lens that prying journalists use to hound celebrities catching them unawares.
But what during the day when the flashlights are not required? Siddiqui's answer is simple. Flashlights are mostly used in the dark, especially when the moments need to be kept under the wraps. Also, the team has worked on the technical aspect so much that at times a photo gets washed out even when the flashlight is switched on during the day.
The monochrome scarves with geometric prints are available in different colours: black, red, grey, green, blue, and so on and are priced between £200 and £700. The product range is really wide, so it appeals to a lot of people. It can be worn by men, women and it doesn't matter what you combine it with, it's the perfect accessory.
Little wonder that within six months since its introduction in various fashion weeks across Europe and North America, ISHU has found its way into the wardrobes of global celebs like actors Cameron Diaz, Nina Dobrev, singers Nick and Joe Jonas, socialite Paris Hilton and German footballer Jérôme Boateng. ISHU is expected to be introduced in India in August.
"Everywhere we go, people appreciate what we do, and we get great support from fashion organizations and fashion tech and innovation industry leaders alike," Siddiqui, who was in Delhi recently said, his eyes gleaming with pride as he recalled the reception to his range of products at fashion weeks in Toronto, Amsterdam, London, Paris, Los Angeles and Milan over the past six months.
The full product range men's and women's collection is to appear in Britain's famous stores Harrods and Selfridges while the tie and pocket squares are available through its website, www.theishu.com, said Siddiqui whose team is working on mobile phone cases that could black out pictures.
"Simply keep your phone in front of your face when someone takes a picture", said the 28-year old who was struck with this idea when a friend failed to capture him on the camera due to a reflector on his motorcycle in Amsterdam six years ago.
How cool would it be to be able to wear something that could ruin a picture completely? If one is not in the mood to get clicked, one could wear something that would distort the image. Thus, was born the idea of the ISHU fabric. Siddiqui then put together a team of fashion experts and stylists to produce this amazing accessory of sorts taking the world by storm.
In a world of instant social media where the lines between public and private have nearly vanished, Siddiqui strongly advocated that privacy needs to be maintained and guarded no matter if a person is a celeb or not.
That's the issue about ISHU. Perhaps, Lady Diana's tragic tale would have had a different twist in 1997 if Siddiqui's 'invisibility cloak' had hit fashion stores then.
[Source:- fibre2fashion]