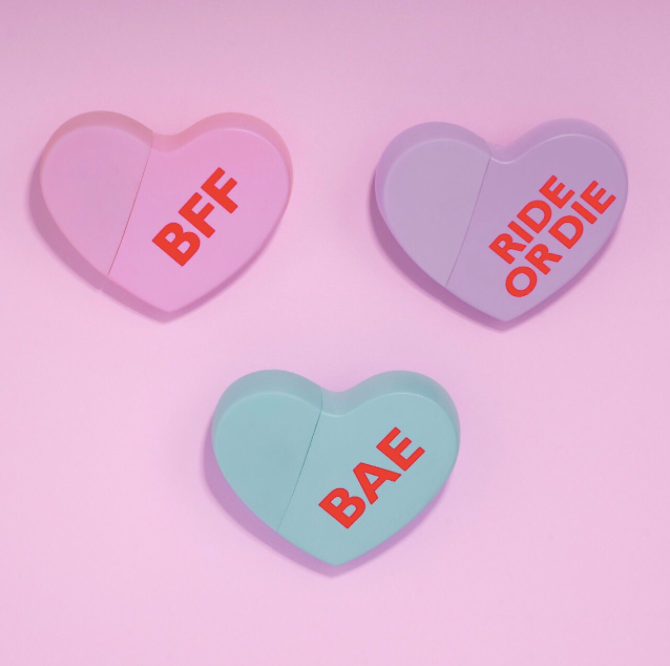 Update: Kim Kardashian West just released the pricing, size, and scent details or her new limited-edition KKW Fragrance Kimoji Heart perfumes. Each candy heart-inspired scent will cost only $30 (super cheap!) for 30ml of perfume.
The notes for the scent Bae just dropped on Kardashian West's Instagram. It sounds like a fruity, sweet scent with opening notes of mandarin, bergamot, and kiwi. The heart is jasmine sambac, gardenia blossom (Kim loves her gardenia!), and coconut water. The dry-down is vanilla, sandalwood, and musk.
We'll update this post when we find out more details on the scents BFF and Ride or Die.
Original: Kim Kardashian West shattered sales records with the drop of three crystal-themed perfumes under her KKW Fragrance brand late last year. (She reportedly sold $10 million worth in just one day.) It's no surprise then that the beauty mogul is back for more, this time with a Valentine's Day-themed limited edition collection of Kimoji Heart Fragrances. Meet Bae, BFF, and Ride or Die.
The three new Kimoji fragrances are launching on February 1 on KKWFragrance.com. No word yet on the notes or what they smell like, but based on the candy heart packaging, we're gonna go with sweet. Really, really sweet.
While the first three KKW perfume—Crystal Gardenia, Gardenia Oud, and Gardenia Citrus—had a more luxurious vibe, this drop is all about fun. The plastic heart packaging is a nod to West's other business venture—NSFW emojis and merch. Fans are already speculating that the bottles look quite small, so we'll update this post when we learn more about the price, size, and scents.
West has been busy teasing new launches from both her fragrance and makeup brands on social media. Under the KKW Beauty label, long-awaited concealers and baking powders, a collection with her long-time makeup artist Mario Mario Dedivanovic, and well creamy nude lipsticks are expected to drop sometime early this year. "I am really excited about my collab with Mario. We're working on stuff we use as as our everyday stuff," West told BAZAAR.com. "Concealers—I was going to launch concealers next, but I really wanted to perfect it. So I think concealers will be next. We have amazing lip products and lip liners coming out. They're not matte. They're not glossy, they're just really to me the perfect lipstick that stays on for so long. It's a little bit creamy. But the perfect colors—the perfect colors. My makeup artists would always mix five colors to get the lip I am wearing for the day. I was like 'You guys, I do not know how to recreate this.' So I am going to make these shades."
["Source-harpersbazaar"]